The Origins of You: How Breaking Family Patterns Can Liberate the Way We Live and Love (Hardcover)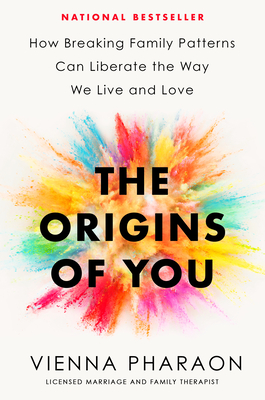 $29.00

NOT ON OUR SHELVES- available for order, usually ships in 1-5 days
Description
---
NATIONAL BESTSELLER

From licensed therapist and popular Instagram relationship expert Vienna Pharaon (@mindfulmft, +683K followers) comes a profound guide to understanding and overcoming wounds from your Family of Origin—the foundation of how we relate to others, ourselves, and the world around us.

None of us had a perfect childhood; we are all carrying around behaviors that don't serve us—and may in fact be hurting us. But it doesn't have to be that way, says licensed marriage and family therapist Vienna Pharaon. Our past might create our patterns, but we can change those patterns for the better...with the right tools.

In The Origins of You, Pharaon has unlocked a healing process to help us understand our Family of Origin—the family and framework we grew up within—and examine what worked (and didn't) in that system. Unhealed pain (or "wounds") in that Family of Origin will manifest in our adult behaviors in surprising ways, from work challenges to interpersonal struggles. But the good news: armed with the knowledge about our past, we can actually rewire our programming to meaningfully improve our relationships and our lives, right now and in the future.

It doesn't matter whether you've been in therapy for decades, or whether therapy isn't for you. It doesn't matter if you had a great childhood, or a terrible one. You can create change and resolve things from the past that need your attention. Complete with guided introspection, personal experiences, client stories, frameworks for having difficult conversations, and worksheets to complement each chapter, The Origins of You will teach you how to break family patterns and help you liberate the way you live and love.
About the Author
---
Vienna Pharaon is a licensed marriage and family therapist and one of New York City's most sought after relationship therapists. She has practiced therapy for over fifteen years and is the founder and owner of the group practice, Mindful Marriage and Family Therapy. She received her Master of Science in Marriage & Family Therapy from Northwestern University, and trained extensively at The Family Institute, Bette D. Harris Center. Pharaon has been featured in The Economist, Netflix, Vice, and Motherly, and has led workshops for Peloton and Netflix, amongst others. She currently lives in Upstate, New York with her husband and son. The Origins of You is her first book.
Praise For…
---
One of Amazon's Best Books of the Month
One of Hollywood Reporter's Best Gifts for Sparking Optimism

"The Origins of You offers us a promise: our family of origin, no matter how damaged it might have been, does not determine our destiny. With empathy and wisdom, Vienna Pharaon explains how our past creates our patterns—patterns we're still living out today—and how we can shift those habits to create a new, healthier path for ourselves. Vienna's book is a gift." —Nedra Glover Tawwab, author of Set Boundaries, Find Peace

"Thoughtful self-help exercises with suggestions on how to best read, process and digest this information are woven throughout The Origins of You, and Pharaon feels like a cheerleader and confidant as she offers honest, straightforward advice." —BookPage

"Change your behavior, change your life. Licensed therapist and relationship expert Vienna Pharaon wrote The Origins of You to help readers break unhealthy patterns of behavior in order to enjoy a better way of life. Each chapter includes worksheets for introspection, which will help you heal old wounds to create meaningful change in relationships with others as well as yourself." —Hollywood Reporter

"[Pharaon] offers tools to communicate and set boundaries in relationships, and encourages readers to make changes to take control of their own relationship dynamics and move beyond their past trauma…She encourages readers to seek out therapy, while still offering them a starting place to understand their trauma and guide them through the work that they will need to do as they move forward…Will appeal to fans of Pharaon's Instagram page and those seeking a self-help guide to help them navigate family patterns and take control of their love lives." —Library Journal

"The Origins of You does a brilliant job of striking the balance of acknowledging the pain of the past without getting lost in blame. As you reflect on growing up in your family, you'll have countless aha moments, opportunity for self-discovery, and a path forward for ending unhealthy patterns in your life and relationships. This book is the book that everyone in your family should read." —Julianne Hough, Emmy Award Winner, Dancer, Actor and Entrepreneur 

"The Origins of You is a powerful guide to know ourselves and change our relationships. Vienna has provided the knowledge we need to deeply improve our lives. This book is for anyone who is serious about personal growth and is ready for a big change." –Yung Pueblo, author of Clarity and Connection

"I can say the following with great confidence: Vienna Pharaon has outdone herself. And, as someone who has known her excellence and passion for years, this is saying a lot! In The Origins of You, Vienna guides us, with her kind heart and clear eyes, to make connections between our past and our present. Because insight is necessary but not sufficient, Vienna goes further, helping us heal our wounds and create new possibilities for cultivating self-love and healthy relationships in our lives today. The Origins of You is a book that I will recommend without hesitation to my clients, students, family, and friends." –Alexandra H. Solomon, PhD, licensed clinical psychologist at The Family Institute at Northwestern University, faculty at Northwestern University, author of Loving Bravely and Taking Sexy Back, host of Reimagining Love

"The Origins of You forces us to accept that you can't outrun your past. Vienna is a skilled family therapist who uses her expertise, compassionate voice, and engaging storytelling to help you discover what to do when your early life experiences are no longer serving you. This is the book for anyone who has ever wondered, "Why am I like this and what can I do about it?" –Whitney Goodman, LMFT and author of Toxic Positivity

"Compelling and groundbreaking. To truly know who we are, we must witness where we've been. The Origins of You invites us to move forward by first moving back, and it is a staple for anyone looking to heal." —Dr. Marisa Franco, author of Platonic

"Wow! A book that not only clearly guides one's journey towards self-understanding and healing, but disarms you and speaks directly to your soul. This book is filled with invaluable information interwoven in powerful, compassion-filled stories that help shift perspectives. If you are ready to break patterns, face your wounds, and work towards healthy relationships––Vienna's words are it." —Sara Kuburic, Existential therapist, Author, and Creator of @Millennial.Therapist