Black Sheep (Hardcover)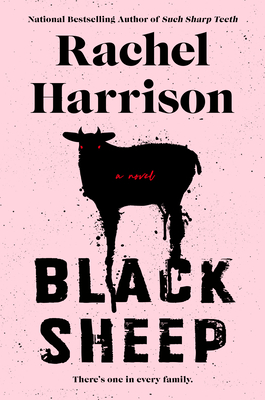 $27.00

NOT ON OUR SHELVES- available for order, usually ships in 1-5 days
Description
---
A New York Times Best Horror Book of the Year 

A cynical twentysomething must confront her unconventional family's dark secrets in this fiery, irreverent horror novel from the author of Such Sharp Teeth and Cackle.
 
Nobody has a "normal" family, but Vesper Wright's is truly...something else. Vesper left home at eighteen and never looked back—mostly because she was told that leaving the staunchly religious community she grew up in meant she couldn't return. But then an envelope arrives on her doorstep. 
 
Inside is an invitation to the wedding of Vesper's beloved cousin Rosie. It's to be hosted at the family farm. Have they made an exception to the rule? It wouldn't be the first time Vesper's been given special treatment. Is the invite a sweet gesture? An olive branch? A trap? Doesn't matter. Something inside her insists she go to the wedding. Even if it means returning to the toxic environment she escaped. Even if it means reuniting with her mother, Constance, a former horror film star and forever ice queen.
 
When Vesper's homecoming exhumes a terrifying secret, she's forced to reckon with her family's beliefs and her own crisis of faith in this deliciously sinister novel that explores the way family ties can bind us as we struggle to find our place in the world.
About the Author
---
Rachel Harrison is the national bestselling author of Such Sharp Teeth, Cackle, and The Return, which was nominated for a Bram Stoker Award for Superior Achievement in a First Novel. Her short fiction has appeared in Guernica, in Electric Literature's Recommended Reading, as an Audible Original, and in her debut collection, Bad Dolls. She lives in western New York with her husband and their cat/overlord.
Praise For…
---
"Rachel Harrison's love letter to horror…This novel is irreverent and hilarious but also spine-chilling and dark. It plays with familiar tropes while also delivering plenty of scares and some devastating emotional writing. It all comes together to form a fun and heartfelt novel about coming home." – The New York Times

"Think The Princess Diaries meets Dante's Inferno. That's Black Sheep. Only Rachel Harrison could write something with such fiery playfulness and such stunning acerbic wit. Undoubtedly the most enjoyable and compelling horror novel you'll read this year."
—Eric LaRocca, author of Things Have Gotten Worse Since We Last Spoke

"Harrison finds new ways to press on the bruise of growing up as an outsider, delivering small-town religious horror with wit as sharp as a ritual dagger piercing through a bleeding core of familial trauma."
—Publishers Weekly (starred review)

"Vesper's story ruminates on themes that include nature vs. nurture, the legacy of family trauma, and the repercussions of organized religion in its various forms...this subject matter elevates a horror novel to a study in philosophy, even as the bloodletting ramps up."
—Shelf Awareness

"Black Sheep is a devilish good time made all the more compelling with an exploration of the complexities of family dynamics. Compulsively readable."
—Kristi DeMeester, author of Such a Pretty Smile

"A razor-sharp voice full of wit and humor, along with some edge-of-your-seat moments, will have readers clamoring for more."
—Library Journal (starred review)

"No other contemporary author harnesses the humanity found in horror quite like Rachel Harrison. With Black Sheep, she warms your heart, then breaks it, then rips it out."
—Clay McLeod Chapman, author of Ghost Eaters

"Once again, Rachel Harrison finds light in the darkness and darkness in the light…Black Sheep sits proudly among her family of contemporary horror classics."
—Nat Cassidy, author of Mary: An Awakening of Terror and Nestlings

 "Anyone who read Such Sharp Teeth knows that Harrison can absolutely nail thorny family dynamics and blend them with visceral horror, but with Black Sheep, there's something new going on, proving yet again that Harrison is one of the most versatile authors in the genre."
—Paste Magazine

"Surprising and snappy, Harrison catches you on Hellraiser hooks with a ceremony of grim wit and communal dread. Black Sheep makes a firm case for dodging every family get-together."
—Hailey Piper, Bram Stoker Award-winning author of Queen of Teeth

"Vesper is my favorite new antihero. . . . This is, in short, my ideal read and my favorite Rachel Harrison novel yet."
—Anne Heltzel, author of Just Like Mother

"Harrison has molded her own addictive niche of relatable heroines caught in unconventional (and usually supernatural) situations. Black Sheep may be the epitome of her brand."
—Fangoria

"With brilliant underline-worthy writing, thrilling page-turning pace, and genuine laugh-out-loud humor, Black Sheep confirms what I already knew: I will follow Harrison down any dark alley, always."
—Claudia Lux, author of Sign Here