A Dawn of Onyx (The Sacred Stones #1) (Paperback)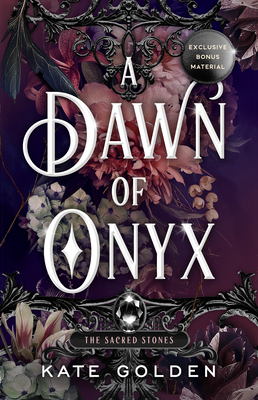 Other Books in Series
This is book number 1 in the The Sacred Stones series.
Description
---
A 2023 Romantasy Goodreads Choice Award Nominee!

The breakout TikTok fantasy romance, now with special bonus material!

Captured by the king of darkness, she was forced to find the light within.

Arwen Valondale never expected to be the brave one, offering her life to save her brother's. Now she's been taken prisoner by the most dangerous kingdom on the continent, and made to use her rare magical abilities to heal the soldiers of the vicious Onyx King.

Arwen knows better than to face the ancient, wicked woods that surround the castle on her own, which means working with a fellow prisoner might be her only path to freedom. Unfortunately, he's as infuriating as he is cunning—and seems to take twisted pleasure in playing on Arwen's deepest fears.

But here in Onyx Kingdom, trust is a luxury she can't afford.

To make it out of enemy territory, she'll have to navigate back-stabbing royals, dark magic, and deadly beasts. But untold power lies inside Arwen, dormant and waiting for a spark. If she can harness it, she just might be able to escape with her life—and hopefully, her heart.
About the Author
---
Kate Golden is the author of TikTok sensation and debut novel A Dawn of Onyx. She lives in Los Angeles where she works in the film industry developing movies with screenwriters and filmmakers. When she isn't telling stories, Kate is an avid book reader, movie fanatic, and functioning puzzle addict. She and her husband can be found hosting cozy game nights and taking hikes with their sweet pup, Milo. You can find her on Instagram at @KateGoldenAuthor and on TikTok at @Kate_Golden_Author, where she is known to post both spicy and heartbreaking teasers for her upcoming books.
Praise For…
---
"A Dawn of Onyx is such an enthralling read, with a top tier enemies-to-lovers storyline that absolutely sparkles. There's so much delicious romantic tension and fun banter, as well as an intriguing fantasy world and magic galore, it's truly a feast for a reader's heart. Fans of Sarah J. Mass and Tahereh Mafi will love it. I loved it, and I can't wait to delve into the next book in the series. Kate Golden has taken her place on my list of must-read authors."—India Holton, international bestselling author of The Secret Service of Tea and Treason

"A Dawn of Onyx is an electrifying start to a thrilling new romantasy series that is magical, filled with delicious tension, and left me desperate for the next installment!"—Lana Ferguson, national bestselling author of The Nanny

"A Dawn of Onyx is fun romantasy deliciousness, complete with magic, Fae, dragons, empire-shaking secrets, and a sulty, wicked king. Arwen is an appealing heroine—determined, optimistic, and empathetic, she struggles between her longing for home and the desire to spread her wings and learn more about the world. Her interactions with Kane are spiced with tension and banter, and I can't wait to see more of this combustible pairing in the next books."—Sarah Hawley, author of A Witch's Guide to Fake Dating a Demon