Questions and Answers on Death and Dying: A Companion Volume to On Death and Dying (Paperback)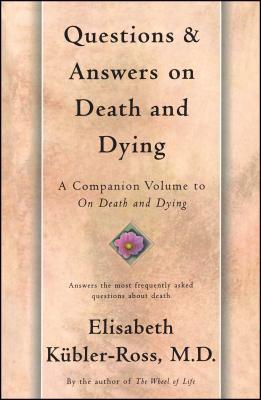 $16.99

NOT ON OUR SHELVES- available for order, usually ships in 1-5 days
Description
---
On Death and Dying is one of the most important books ever written on the subject and is still considered the bench-mark in the care of the dying. It became an immediate bestseller, and Life magazine called it "a profound lesson for the living." This companion volume consists of the questions that are most frequently asked of Dr. Kübler-Ross and her compassionate answers. She discusses accepting the end of life, suicide, terminal illness, euthanasia, how to tell a patient he or she is critically ill, and how to deal with all the special difficulties surrounding death. Questions and Answers on Death and Dying is a vital resource for doctors, nurses, members of the clergy, social workers, and lay people dealing with death and dying.
About the Author
---
Elisabeth Kübler-Ross, MD, [1926–2004] was a Swiss-born psychiatrist, humanitarian, and co-founder of the hospice movement around the world. She was also the author of the groundbreaking book On Death and Dying, which first discussed The Five Stages of Grief. Elisabeth authored twenty-four books in thirty-six languages and brought comfort to millions of people coping with their own deaths or the death of a loved one. Her greatest professional legacy includes teaching the practice of humane care for the dying and the importance of sharing unconditional love. Her work continues by the efforts of hundreds of organizations around the world, including The Elisabeth Kübler-Ross Foundation: EKRFoundation.org.
Praise For…
---
Library Journal Those in need of dealing with dying persons -- either as members of the helping professions or as friends or relatives -- could scarcely find a better book.