Death at Nuremberg (A Clandestine Operations Novel) (Paperback)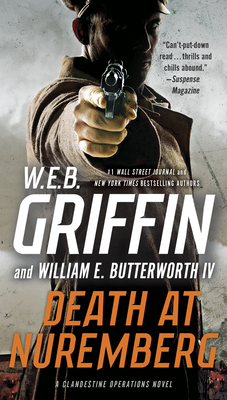 $9.99
Usually Ships in 1-5 Days
Description
---
Assigned to the Nuremberg war trials, special agent James Cronley Jr. finds himself fighting several wars at once in the dramatic new Clandestine Operations novel about the birth of the Central Intelligence Agency and the Cold War

When Jim Cronley hears he's just won the Legion of Merit, he figures there's another shoe to drop, and it's a big one: He's out as Chief, DCI-Europe. His new assignments, however, couldn't be bigger: to protect the U.S. chief prosecutor in the Nuremberg trials from a rumored Soviet NKGB kidnapping, and to hunt down and dismantle the infamous Odessa, an organization dedicated to helping Nazi war criminals escape to South America.
     It doesn't take long for the first attempt on his life, and then the second. NKGB or Odessa? Who can tell? The deeper he pushes, the more secrets tumble out: a scheme to swap Nazi gold for currency, a religious cult organized around Himmler himself, an NKGB agent who is actually working for the Mossad, a German cousin who turns out to be more malevolent than he appears--and a distractingly attractive newspaperwoman who seems to be asking an awful lot of questions. Which one will turn out to be the most dangerous? Cronley wishes he knew.
About the Author
---
W.E.B. Griffin is the author of seven bestselling series: The Corps, Brotherhood of War, Badge of Honor, Men at War, Honor Bound, Presidential Agent, and Clandestine Operations. He lives in Fairhope, Alabama, and Buenos Aires, Argentina.

William E. Butterworth IV has been an editor and writer for more than 25 years, and has worked closely with his father for over a decade on the editing and writing of the Griffin books. He is coauthor with him of more than a dozen New York Times bestselling novels. He is a member of the Sons of the American Legion, China Post #1 in Exile; the Office of Strategic Services (OSS) Society; and a life member of the National Rifle Association and the Texas Rifle Association. He lives in Florida.
Praise For…
---
Praise for the Clandestine Operations series

"An incredible mix of intrigue and diplomacy from a literary team that ignites suspense loves everywhere. Readers will be panting for the next novel." --Suspense Magazine

"A Griffin adventure to bring out the Walter Mitty in every red-white-and-blue-blooded American male." --Kirkus Reviews

"Engaging...It's a testament to the authors' skill and wide experience that the pages seem to turn themselves."--Publishers Weekly

"An excellent series. The period between WWII and the Cold War offers raw material for several books, and as fans of Griffin's body of work are well aware, he really sinks his teeth into politics and history."--Booklist