A Burning in My Bones: The Authorized Biography of Eugene H. Peterson, Translator of The Message (Hardcover)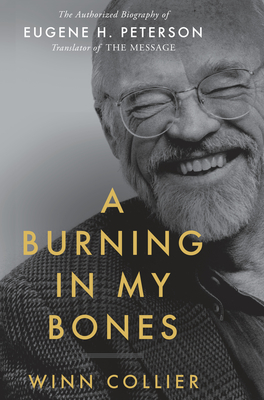 $28.00
Backordered or Out of Print
Description
---
This essential authorized biography of Eugene Peterson offers unique insights into the experiences and spiritual convictions of the iconic American pastor and beloved translator of The Message.

"In the time of a generation-wide breakdown in trust with leaders in every sphere of society, Eugene's quiet life of deep integrity and gospel purpose is a bright light against a dark backdrop."—John Mark Comer, author of The Ruthless Elimination of Hurry

"This hunger for something radical—something so true that it burned in his bones—was a constant in Eugene's life. His longing for God ignited a ferocity in his soul."  

Encounter the multifaceted life of one of the most influential and creative pastors of the past half century with unforgettable stories of Eugene's lifelong devotion to his craft and love of language, the influences and experiences that shaped his unquenchable faith, the inspiration for his decision to translate The Message, and his success and struggles as a pastor, husband, and father.  

Author Winn Collier was given exclusive access to Eugene and his materials for the production of this landmark work. Drawing from his friendship and expansive view of Peterson's life, Collier offers an intimate, beautiful, and earthy look into a remarkable life.
 
For Eugene, the gifts of life were inexhaustible: the glint of fading light over the lake; a kiss from his wife, Jan; a good joke; a bowl of butter pecan ice cream. As you enter into his story, you'll find yourself doing the same—noticing how the most ordinary things shimmer with a new and unexpected beauty.
About the Author
---
In addition to A Burning in My Bones, Winn Collier has authored four books (Restless Faith, Let God: The Transforming Wisdom of François Fénelon, Holy Curiosity, and Love Big, Be Well) and contributed to numerous other volumes. He has written for multiple periodicals including Christianity Today, Christian Century, Relevant, and the Washington Post.
 
A pastor for twenty-five years, Winn was the founding pastor of All Souls Charlottesville in Virginia. He now directs the Eugene Peterson Center for Christian Imagination at Western Theological Seminary in Michigan. He holds a PhD from the University of Virginia, where he focused on the intersection of religion and literary fiction. Winn and his wife, Miska, a spiritual director, live in Holland, Michigan, with their two sons.
Praise For…
---
"Winn Collier captures Eugene Peterson's sense of wonder over the presence of God and the radiance of Scripture. Through A Burning in My Bones, you'll learn to experience life through Eugene's eyes: dig deep, look for what is real, find the sacred in the rough and ordinary, and live like God is real."—Mark Batterson, New York Times bestselling author of The Circle Maker and lead pastor of National Community Church

"How do you reduce into words the vital reality of this man, scholar, searcher, teacher, and faithful friend? Eugene was a man who brought Scripture to fresh life for me and millions of others—who else would invite the phrase Holy Luck into a retelling of the Beatitudes? Winn Collier's skilled storytelling weaves the threads of Eugene's life into something fitting, like the prayer shawl he wore in his study every day."—Luci Shaw, Regent College writer in residence and author of The Generosity poems

"I knew Eugene Peterson for thirty years, or at least I thought I did. He didn't talk much, especially about himself. I knew nothing about his mouse tattoo, his Pentecostal mother's radio program, the abysmal failure of his first church plant attempt, his friendship with a young Pat Robertson, or his square dancing prowess. Somehow Winn Collier ferreted out the little known facts about Eugene that, taken together, complete the picture of a humble, gentle giant who brought the Bible to new life for millions and became an inspirational model for beleaguered pastors everywhere."—Philip Yancey, author of What's So Amazing About Grace

"Captivating from the first page, Collier's artful storytelling immerses us into the life of a spiritual sage. With a gentle hand, he weaves together moments and words and letters and prayers, drawing out themes like threads in a tapestry, never imposing a narrative. In these pages, we go beyond The Message and the pastor, and meet the human in all his earthiness and holiness. This is a work of art worthy of the man who wanted to be a saint."—Glenn Packiam, associate senior pastor of New Life Church and author of Blessed Broken Given

"In the time of a generation-wide breakdown in trust with leaders in every sphere of society, Eugene's quiet life of deep integrity and gospel purpose is a bright light against a dark backdrop. For years his life has been the North Star for my life and pastoral call. This seminal biography is an unmistakable call to quiet resistance against the way of the world and, when necessary, the way of the church. Only read this book if you're ready to live differently."—John Mark Comer, pastor for teaching and vision at Bridgetown Church and author of The Ruthless Elimination of Hurry