Operational Updates
Click HERE for the most updated hours, customer guidelines and updates to store policy.
The Dark Ferryman (Elven Ways #2) (Mass Market)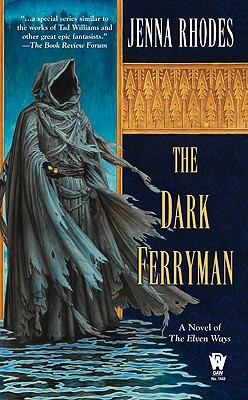 $9.99
Email or call for price.
Other Books in Series
This is book number 2 in the Elven Ways series.
Description
---
The Dark Ferryman is the second novel in the spellbinding fantasy epic, The Elven Ways.  

Kerith is a land bereft of magic since the devastating Magi Wars. Warlike Galdarkans, peaceful Dwellers, Kernan tradesmen and merchants, and brutish Bolgers have co-existed since that time, until the Vaelinars mysteriously appeared from nowhere, bringing with them a different sort of elemental magic. Now, generations after their arrival, Kerith stands at a turning point.
 
As hostilities escalate, and treachery abounds, Rivergrace and Sevryn—she a Vaelinar raised by a loving Dweller family, and he an orphaned half-breed who has served Lariel, the Vaelinar Warrior Queen, faithfully for many years—are accused of traitorous acts and are forced to follow separate paths in search of their destinies.
 
Yet both keep encountering the Dark Ferryman, the most mysterious of all the magically-created passages of power known as the Vaelinar Ways. And neither knows what payment the Ferryman will demand for the aid being given them....
About the Author
---
Jenna Rhodes (a pseudonym used by R. A. V. Salsitz), was born in Phoenix, Arizona and is a writer of science fiction, fantasy, and mystery novels. She also writes under the names Emily Drake, Anne Knight, Elizabeth Forrest, Charles Ingrid, Rhondi Vilott Salsitz, R.A.V. Salsitz, Rhondi Vilott, and Rhondi Greening. Rhodes has been writing since she was in 3rd grade. She has published over 50 books and short stories. She can be found at rhondiann.com.
Praise For…
---
Praise for The Elven Ways series:

"Sevryn Dardanon is not your typical elf.  In fact, the world of Kerith is not your typical elf world…spectacular series debut…fresh variations on the standard epic fantasy tropes." —Publishers Weekly (for The Four Forges)

"Rhodes evokes an atmosphere of urgency in her series opener, set in a world of ever-shifting alliances and unforeseen dangers.  Strong characters and a compelling story make this a good choice." —Library Journal

"The intricately plotted, character-driven saga of the Vaelinar's desperate struggles finds anchors in folklore and legend, appealing to fans of slower pacing and detailed worldbuilding." —Publishers Weekly (for The Dark Ferryman)

"Richly drawn settings and intricate plots." —Booklist

"…a fantastic epic fantasy in what looks like it will be a special series similar to the works of Tad Williams and other great epic fantasists.  The key cast members are believable individuals with distinct personalities.  Jenna Rhodes leaves enough threads for readers to look forward to the next tale, but in a paradox The Four Forges feels complete." —The Book Review Forum

"Rhodes has built a fully realized world with engaging characters with a dangerous manifest destiny.  The characters are complex and real in perilous times and leave you waiting anxiously to see what is resolved.  A bright beginning for a new light on the fantasy horizon." —ConNotations