Holiday Heroine (Heroine Complex #6) (Paperback)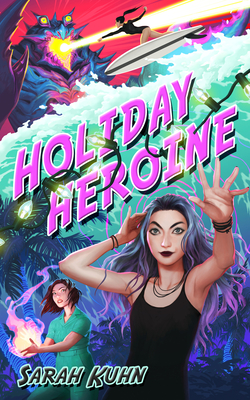 Other Books in Series
This is book number 6 in the Heroine Complex series.
Description
---
The sixth book in the smart, snarky, and action-packed Heroine series continues the adventures of Asian-American superheroine Bea Tanaka as she takes on demons in Hawaii.

Nobody loves Christmas like Bea Tanaka—so when her family visits her for a special holiday celebration, she's beside herself with joy.

After years of chaos, questionable decisions, and flirtations with the supervillain path, Bea is finally thriving. She's got a sweet, new gig hunting demons in Maui, she's working hard to hone her powers, and her big sister Evie is proud of her at last. In fact, everyone is so proud of her that she can't tell them the truth: she's feeling lost and adrift. She and her boyfriend Sam Fujikawa are struggling to make their long-distance love work, and her powers are displaying some intriguing new elements—elements that could lead her down an evil, mind-controlling path once more.

When her family's holiday visit is disrupted by otherworldly monsters rising out of the Maui ocean, Bea throws herself into the battle—until she's suddenly and mysteriously transported to the perfect Christmas back in San Francisco, surrounded by her family and an excess of merrymaking.

As she finds herself trapped in the bizarre holiday rom-com of her nightmares, Bea must unravel a treacherous demon plot, save the world from unspeakable evil, and resist the siren song of a supervillain destiny. And hey, maybe she'll find time for a little holiday cheer after all....
About the Author
---
Sarah Kuhn is the author of the popular Heroine Complex novels—a series starring Asian American superheroines. The first book is a Locus bestseller, an RT Reviewers' Choice Award nominee, and one of the Barnes & Noble Sci-Fi & Fantasy Blog's Best Books of 2016. Her YA debut, the beloved Japan-set romantic comedy I Love You So Mochi, is a Junior Library Guild selection and a nominee for YALSA's Best Fiction for Young Adults. Her latest novel for young adults, From Little Tokyo, With Love—a modern fairy tale featuring a half-Japanese heroine—is a Junior Library Guild Selection, one of the New York Times' YA Books to Add to Your Reading List, a People Magazine Best Book of the Summer, a nominee for the Golden Poppy Award, and Penguin Random House's One World, One Book title of the year. She has also penned a variety of short fiction and comics, including the critically acclaimed graphic novel Shadow of the Batgirl for DC Comics and the Star Wars audiobook original Doctor Aphra. Additionally, Sarah was a finalist for both the CAPE (Coalition of Asian Pacifics in Entertainment) New Writers Award and the Astounding Award for Best New Writer. A third generation Japanese American, she lives in Los Angeles with her husband and an overflowing closet of vintage treasures.
Praise For…
---
Praise for Holiday Heroine

"In this final installment of Kuhn's Asian American superheroine series, we see how far Team Tanaka/Jupiter has come—and it's beautiful... When you take away the superheroine elements, these are all strong Asian American women just trying to get through life, like the rest of us." —Northwest Asian Weekly

Praise for the Heroine Complex series

"Sarah Kuhn's Heroine Complex is a delight." —Leigh Bardugo, New York Times-bestselling author of the Shadow and Bone trilogy

"Sarah Kuhn creates characters you want to befriend, worlds you want to live in, and situations you can't begin to imagine. Heroine Complex is at once fiendishly snarky yet colossally big-hearted." —Javier Grillo-Marxuach, writer and producer for Lost, creator of The Middleman

"Smart, sexy, and filled with beautifully fleshed-out/kick-ass women, Heroine Complex is the kind of read that sticks in your brain like a fanged cupcake…. I adored it." —Amber Benson, author of The Witches of Echo Park

"The superheroine we've been waiting for; the urban fantasy we deserve. Sarah Kuhn is the total package: comedy, tragedy, and sincerity. Grab your cape. We're saving the city."
—Seanan McGuire, New York Times-bestselling author of the October Daye series

"Kuhn imbues her books simultaneously with great humor and real, raw emotion…. And then she amps it all up with superpowers, demonic forces, and rampaging architectural features." —Cass Morris, author of From Unseen Fire

"Mixing fun superhero shenanigans with great teamwork and a well-developed (and hot) romance, Heroine Worship is a worthy sequel to one of my favorite books from last year." —Kirkus Reviews

"Decisively entertaining and deceptively complex…. Poignant scenes are interspersed with the high jinks fans of the series have come to expect, making this a hugely fun, yet intensely thoughtful take on superheroics and new adulthood." —Publishers Weekly (starred review)

"Annie's struggles to merge her kick-ass Aveda persona with her everyday Annie Chang tendencies can be hilariously slapstick, while her emotional growth provides its own tearjerker moments." —Library Journal

"An absolute blast. Aveda, Evie, & co. continue grow and develop while remaining San Francisco's premiere superlady team, and it's a ton of fun to see all of the characters we've come to know and adore from Bea's perspective." —BookRiot

"When it comes to superhero novels, Heroine's Journey might not be what you're expecting, but it's certainly what we might need these days. Heroine's Journey is probably the best so far, yours truly is excited to see where everyone goes next." —Culturess