Operational Updates
Click HERE for the most updated hours, customer guidelines and updates to store policy.
Satisfaction Guaranteed (Paperback)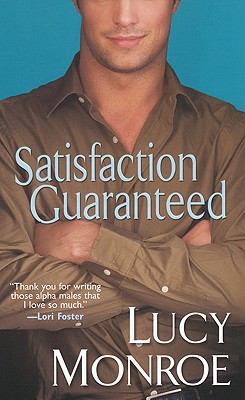 Description
---
Anytime, anyplace, Ethan Crane's your man. An agent's agent, he's tough, smart, and fearless. Exactly the guy you want when the stuff hits the fan--and the kind Beth Whitney avoids like the plague. It took a fiancé in the business to teach her, but she's learned her lesson: Don't. Date. Agents. It's this rule that's kept her employed at the agency, doing her part for world security from behind a desk. So when a case throws the two together, Beth's determined to keep it strictly professional. So far, so good--except for the steamy kisses, the red-hot phone sex, and. . .What was that rule again?

To Ethan, Beth couldn't be less his type if her father ran the agency, which, oh yeah, he does. Still he can't help but find her work in the field a total turn on. Off the field it's even better. But hot pursuit of a notorious information broker is what they should focus on--not each other. That can wait until they've accomplished a job well done. Or can it?
About the Author
---
USA Today bestseller, Lucy Monroe happily lives in the gorgeous Pacific Northwest where green isn't just the predominant color of nature, but a lifestyle choice for many. She thinks it all ties into the same hopeful attitude she finds in romance: the belief that happy endings are as real as tragedy and love carries more power than any other emotion. Sure it takes work and dedicated commitment, but that's what real romance is all about and she believes in it. Hot, gut-wrenching romance with alpha heroes and strong heroines that readers want to love and identify with.

She finds inspiration everywhere, but nowhere more consistently than in her own life-long passionate, but never boring love affair. Her own personal hero has proven time and again that alpha men know how to love and even a lifetime isn't long enough to enjoy that love when it's real.
Devoted to her family, she loves to spend time with them – her sisters and her daughters are her BFFs and always will be. Now that the fitness bug has hit them all, they're as likely to be found going for a power walk together as getting mani-pedis at her favorite salon.

She's as much a reader as an author and chances are your faves are in her TBR pile too. She's always delighted to meet and talk with other readers and hopes you'll stop by one of her social pages to chat.