Triumph (Hardcover)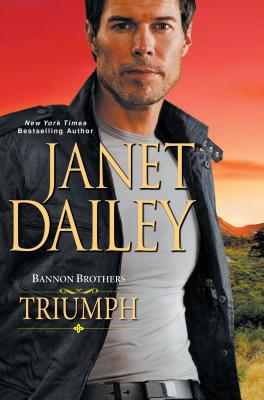 $25.00
Backordered or Out of Print
Description
---
Need a hot hero? Janet Dailey's Bannon Brothers deliver--to the max. Deke Bannon is rugged and powerful and just as dangerous as his older brothers RJ and Linc. But an ambitious TV anchor tracking an explosive story may be more than his match. . .
Deke Bannon, federal criminal investigator, risks his life just about every damn day--but that doesn't mean he'll let Kelly Johns do the same. A deadly international gang has targeted the gorgeous news anchor for knowing too much and trying to find out more. To protect Kelly, Deke will have to keep her close--no matter how hard she fights him.
Good luck with that. Kelly's every instinct tells her she's stumbled across the story of her career. But there's a catch. Without Deke, she can't infiltrate the dark underworld operating beyond the reach of the law. With him, she's in a whole other kind of danger. On the case, Deke Bannon is a force of nature--unpredictable, unstoppable, and always one step ahead of her. Except when he takes her in his arms--and the world stands still for both of them. . .
Praise For Janet Dailey and her novels
"Dailey confirms her place as a top mega-seller." --"Kirkus Reviews"
"She moves her story ahead so purposefully and dramatically . . . readers will be glad they've gone along for the ride." --"Chicago Sun-Times" on "Heiress"
"Murder . . . scandal . . . romance . . . it's all here." --"Kirkus Reviews" on "Tangled Vines"
"Evocative, flavorful . . . Dailey casts her spell . . ." --"Publishers Weekly" on "Masquerade"
"A sure-fire winner." --"Publishers Weekly" on "Rivals.