Operational Updates
Click HERE for the most updated hours, customer guidelines and updates to store policy.
How to Seduce an Angel in 10 Days (Paperback)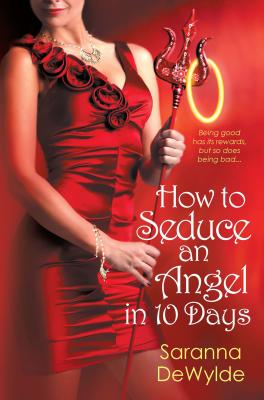 Description
---
Got Angel?
Drusilla "Tally" Tallow does. Both fallen and otherwise because she's got ten days of Heavenly and Infernal Parole after knocking Falcon Cherrywood from his broom. All she wanted was to settle down with a nice warlock, have babies, and grow old together. But she's got a bad habit of falling for the wrong warlock. She blames Cupid. Too bad her Heavenly Parole Officer is none other than the heart bandit himself--the newly appointed Cupid and current fixture in all her fantasies, Falcon Cherrywood.
After smiting Cupid with a fireball, Falcon Cherrywood must now play the Diapered Archer. He can't think of anything more humiliating than flying around in pink wings shooting arrows into hopeless fools. Archery was never his strong suit and Falcon doesn't even believe in love. But more troubling are the feelings his sinfully irresistible parolee sets off in him--for only Tally has the power to make him believe in things better left to fairy tales, like Happily Ever After.
Praise for Saranna DeWylde's Novels
"Brash, sexy and funny as hell." --"New York Times" bestselling author Angie Fox
"Funny, sexy, and wild " --Cynthia Eden
"Grace + Caspian = LOL demonic lovin' fun " --Dakota Cassidy, author of The Accidental Series.