Summer Days (Paperback)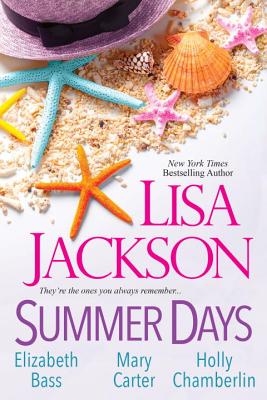 $23.00

NOT ON OUR SHELVES- available for order, usually ships in 1-5 days
Description
---
That summer feeling: sun-filled days, warm nights, and the sweet expectation that comes with finding--or rediscovering--love. . .

His Bride To Be, Lisa Jackson

The job perks: a two-week luxury cruise in the company of one of the most eligible bachelors on the West Coast. But posing as Hale Donovan's fiancée to finesse a takeover deal will challenge all of Valerie Pryce's resolve to keep business and pleasure separate. . .

You Again, Elizabeth Bass

A group yoga tour to Peru is the last place Meredith expects to see her workaholic ex-boyfriend, Sam. Seven years have changed everything--except Meredith's regret at abruptly running away. Yet amid the magnificent views and ancient ruins, a new chance may be waiting. . .

Return To Hampton Beach, Mary Carter

Jacob was the shy, kind twin. Chris was wild and dangerous. As a teenager, Celia Jensen was a little in love with them both. Now Celia is coming back to Hampton Beach for a summer, where she'll untangle the lie that broke her heart.

Summer Memories, Holly Chamberlin

There's nowhere Ellen would rather nurse her wounds after her ex's betrayal than Ogunquit, Maine--a little beach town where she spent idyllic childhood summers. Then Ellen meets a charming local artist who challenges her to create new memories. . .
About the Author
---
LISA JACKSON is the #1 New York Times bestselling author of over ninety-five novels, including You Will Pay, After She's Gone, Deserves to Die, You Don't Want to Know, Running Scared, and Shiver. She is also the co-author of the Colony Series, written with her sister and bestselling author Nancy Bush, as well as the collaborative novels Sinister and Ominous, written with Nancy Bush and Rosalind Noonan. There are over thirty million copies of her novels in print and her writing has been translated into nineteen languages. She lives with her family and three rambunctious dogs in the Pacific Northwest. Readers can visit her website at www.lisajackson.com and find her on Facebook.

ELIZABETH BASS lives with her husband in Montreal, where she writes and astounds the locals with her makeshift French. An elderly cat or dog (or two. . .or four) can typically be found in her apartment, and during the busiest day, Elizabeth usually finds time to sneak in an old movie. She loves to hear from readers and can be found on Facebook, Twitter (@ElizabethBass), or at elizabeth-bass.com.

MARY CARTER is a freelance writer and novelist. Her other works include London From My Windows, Three Months in Florence, The Things I Do for You, The Pub Across the Pond, My Sister's Voice, Sunnyside Blues, She'll Take It, and Accidentally Engaged. Readers are welcome to visit her at marycarterbooks.com

HOLLY CHAMBERLIN was born and raised in New York City. While other kids were playing in the park, she was in the library reading or scribbling stories. In 2003 she and her husband moved to Maine where she is currently working on a new novel. Readers can visit her website at www.hollychamberlin.com.