Operational Updates
Click HERE for the most updated hours, customer guidelines and updates to store policy.
Sock Monkey Goes to Hollywood: A Star is Bathed (Hardcover)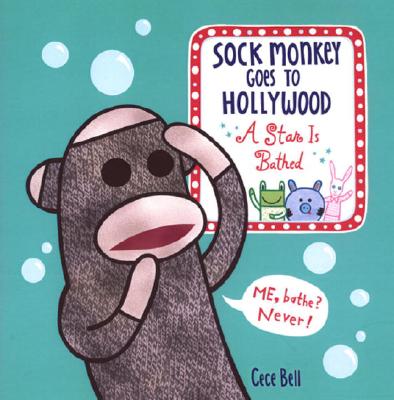 $13.99
Email or call for price
Description
---
Calling all sock monkey fans! One-of-a-kind talent Cece Bell creates a quirky story like no other - a sudsy yarn about soaps and dreams, stardom, and good friends.

The famous toy actor, Sock Monkey, has been nominated for an Oswald Award. But to attend the ceremony, he must do something terrifying - he must take a bath. Yikes! Just the thought of bathing makes Sock Monkey dizzy with fear. Stinky soap! Icy water! Scratchy towels! Luckily, his three best pals - Miss Bunn, Froggie, and Blue Pig - know just what to do to help Sock Monkey become fresh and clean . . . and maybe win his very own Oswald! Bearing all the hallmarks of a cult classic, this heartening tale will have sock monkey stalwarts everywhere heaving a sigh of approval - and perhaps furtively jotting down recommended washing instructions.
About the Author
---
Cece Bell lives in Virginia with the real-life Sock Monkey and his friends, as well as two dogs, and one husband. "Our Sock Monkey has never bathed in his life," she says. "One day I realized just how filthy he really is. So I thought I'd write a book about it. I knew the only thing that would inspire Sock Monkey to get clean would be something that appealed to his vanity, and receiving a big award was it!" Cece Bell likes to draw, paint her house funny colors, read books, and make stuff for her friends. Unlike Sock Monkey, she bathes frequently. This is Cece Bell's first book.