The Rebels: Sons of Texas (Paperback)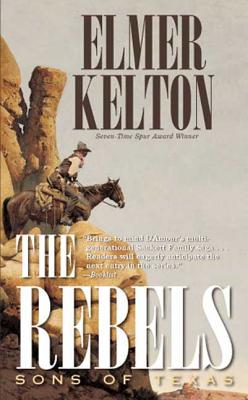 Description
---
It is the mid 1830s and a growing flow of American pioneers into Mexican Texas has sown the seeds of revolution. In the midst of the turmoil are the Lewis brothers – Andrew, Michael, and James – scions of Mordecai Lewis, who crossed the Sabine River into Texas a decade past.
Now the news along the Texas frontier is of a young general, a self-styled "Napoleon of the West," named Antonio Lopez de Santa Anna, who wants to stamp out any gringo talk of independence from Mexico and oust the American interlopers from Texas.
Standing in opposition to Santa Anna is the former governor of Tennessee and veteran of Andrew Jackson's Indian battles, Sam Houston, who is gathering a volunteer army to meet the Mexican forces.
Against the heroic, bloody backdrop of the Texas War of Independence--the battles of Gonzalez, San Antonio de Bexar, Goliad, the Alamo and San Jacinto--the Lewis men and their families join such rebels as Jim Bowie, James Fannin, Ben Milam, Juan Seguin, James Butler Bonham, William Barret Travis, and David Crockett, in wresting Texas from Mexican rule.
About the Author
---
Elmer Kelton (1926-2009) was the award-winning author of more than forty novels, including The Time It Never Rained, Other Men's Horses, Texas Standoff and Hard Trail to Follow. He grew up on a ranch near Crane, Texas, and earned a journalism degree from the University of Texas. His first novel, Hot Iron, was published in 1956. Among his awards were seven Spurs from Western Writers of America and four Western Heritage awards from the National Cowboy Hall of Fame. His novel The Good Old Boys was made into a television film starring Tommy Lee Jones. In addition to his novels, Kelton worked as an agricultural journalist for 42 years. He served in the infantry in World War II. He died in 2009.
Praise For…
---
"The 'Sons of Texas' Trilogy brings to mind the ever-popular Louis L'Amour's multigenerational Sackett family saga. Written with the same skill and attention to historical detail as L'Amour's works, it gives additional pleasure in imagining the dangers and adventure shared by the pioneers who settled the great state of Texas." —El Paso Times on The Raiders