Tyrannosaur Canyon (Wyman Ford Series #1) (Mass Market)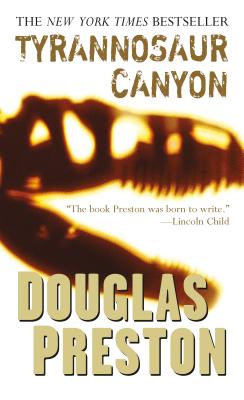 $8.99
Backordered or Out of Print
Other Books in Series
This is book number 1 in the Wyman Ford Series series.
Description
---
A stunning archaeological thriller from Douglas Preston, the New York Times bestselling co-author of Brimstone and Relic.

A moon rock missing for thirty years...
Five buckets of blood-soaked sand found in a New Mexico canyon...
A scientist with ambition enough to kill...
A monk who will redeem the world...
A dark agency with a deadly mission...
The greatest scientific discovery of all time...
What fire bolt from the galactic dark shattered the Earth eons ago, and now hides in that remote cleft in the southwest U.S. known as Tyrannosaur Canyon?

Tyrannosaur Canyon is a fascinating novel from acclaimed bestselling author Douglas Preston, hailed by Publishers Weekly as "better than Crichton."
About the Author
---
Douglas Preston is the co-author with Lincoln Child of the celebrated Pendergast series of novels, including such bestselling titles as Fever Dream, The Book of the Dead, The Wheel of Darkness, and Relic, which became a number one box office hit movie. His solo novels include the New York Times bestsellers Impact, Blasphemy, The Codex, and Tyrannosaur Canyon. Preston is an expert long-distance horseman, a member of the elite Long Riders Guild, and a Fellow of the Royal Geographical Society. He has travelled to remote parts of the world as an archaeological correspondent for The New Yorker. He also worked as an editor and writer at the American Museum of Natural History in New York and taught nonfiction writing at Princeton University. Preston is on the Board of Directors for International Thriller Writers, and serves on the Governing Council of the Authors Guild.
Praise For…
---
"Preston's exhilarating and absorbing science-based effort will thrill readers from the first page to the last. Michael Crichton wishes he could write half as well." --Library Journal

"If John Grisham had written Jurassic Park, he couldn't do better than Tyrannosaur Canyon." --Stephen Coonts

"Grandly entertaining . . . Intelligently told and never less than fun." --The Washington Post

"Characters as diverse as Dickens' . . . Opens doors of the intellect and imagination to some of the incredible realities, mysteries, and possibilities that surround us." --The Washington Times

"Blown away? Yes. Socks knocked off? For sure. This is the kind of a book that takes you deep into the night and will not let you go." --Whitley Strieber, #1 New York Times bestselling author of Communion

"Crichton-worthy." --Publishers Weekly

"I would put Tyrannosaur Canyon up with the best of Michael Crichton's novels . . . a thriller that irresistibly combines cutting-edge science with high adventure. Whatever you do, don't miss it!" --Lincoln Child, New York Times bestselling coauthor of Full Wolf Moon

"Clever . . . [An] interesting mix of speculative science and science fiction." --The Tampa Tribune

"Preston has accomplished the impossible: He has combined the cutting-edge science of Michael Crichton and the thrills and chills of Stephen King to create some of the most electrifying novels of the 21st century. The Codex knocked our socks off. Tyrannosaur Canyon really blew us away." --W. Michael and Kathleen O' Neal Gear, USA Today bestselling authors of People of the Raven

"A perfectly delicious scientific premise." --Booklist

"Tyrannosaur Canyon kept me up past dawn. Preston is a little like Grisham, a little like Crichton, a little like King, but a truly unique and wonderful writer in his own right." --David Hagberg, New York Times bestselling author of Flash Points

"A hair-frying, nerve-fraying, heart-stopping, pulse-pounding thriller of the first magnitude. Preston has always been terrific, but Tyrannosaur Canyon reaches whole new dimensions of thrillerdom." --John Farris, award-winning author of High Bloods