Operational Updates
Click HERE for the most updated hours, customer guidelines and updates to store policy.
Elantris (Mass Market)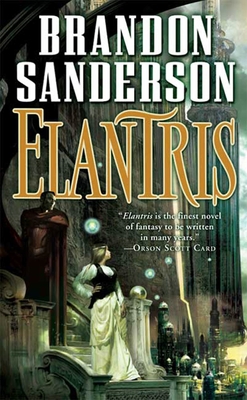 $9.99

NOT ON OUR SHELVES- available for order, usually ships in 1-5 days
Description
---
Elantris was the capital of Arelon: gigantic, beautiful, literally radiant, filled with benevolent beings who used their powerful magical abilities for the benefit of all. Yet each of these demigods was once an ordinary person until touched by the mysterious transforming power of the Shaod. Ten years ago, without warning, the magic failed. Elantrians became wizened, leper-like, powerless creatures, and Elantris itself dark, filthy, and crumbling.

Arelon's new capital, Kae, crouches in the shadow of Elantris. Princess Sarene of Teod arrives for a marriage of state with Crown Prince Raoden, hoping -- based on their correspondence -- to also find love. She finds instead that Raoden has died and she is considered his widow. Both Teod and Arelon are under threat as the last remaining holdouts against the imperial ambitions of the ruthless religious fanatics of Fjordell. So Sarene decides to use her new status to counter the machinations of Hrathen, a Fjordell high priest who has come to Kae to convert Arelon and claim it for his emperor and his god.

But neither Sarene nor Hrathen suspect the truth about Prince Raoden. Stricken by the same curse that ruined Elantris, Raoden was secretly exiled by his father to the dark city. His struggle to help the wretches trapped there begins a series of events that will bring hope to Arelon, and perhaps reveal the secret of Elantris itself.

Other Tor books by Brandon Sanderson

The Cosmere

The Stormlight Archive
The Way of Kings
Words of Radiance
Edgedancer (Novella)
Oathbringer

The Mistborn trilogy
Mistborn: The Final Empire
The Well of Ascension
The Hero of Ages

Mistborn: The Wax and Wayne series
Alloy of Law
Shadows of Self
Bands of Mourning

Collection
Arcanum Unbounded

Other Cosmere novels
Elantris
Warbreaker

The Alcatraz vs. the Evil Librarians series
Alcatraz vs. the Evil Librarians
The Scrivener's Bones
The Knights of Crystallia
The Shattered Lens
The Dark Talent

The Rithmatist series
The Rithmatist

Other books by Brandon Sanderson

The Reckoners
Steelheart
Firefight
Calamity
About the Author
---
Brandon Sanderson grew up in Lincoln, Nebraska. He lives in Utah with his wife and children and teaches creative writing at Brigham Young University. He is the author of such bestsellers as the Mistborn® trilogy and its sequels, The Alloy of Law, Shadows of Self, and The Bands of Mourning; the Stormlight Archive novels The Way of Kings and Words of Radiance; and other novels, including The Rithmatist and Steelheart. In 2013, he won a Hugo Award for Best Novella for The Emperor's Soul, set in the world of his acclaimed first novel, Elantris. Additionally, he was chosen to complete Robert Jordan's Wheel of Time® sequence.
Praise For…
---
"Elantris is the finest novel of fantasy to be written in many years. Brandon Sanderson has created a truly original world of magic and intrigue, and with the rigor of the best science fiction writers he has made it real at every level." —Orson Scott Card

"Elantris . . . is marked by vivid and strongly drawn characters and ingenious plot twists that will keep the reader turning pages. Don't miss it!" —Katherine Kurtz, New York Times bestselling author of the Deryni series

"Outstanding fantasy debut . . . . The intrigue and excitement grow steadily in this smoothly written, perfectly balanced narrative; by the end readers won't want to put it down." —Publishers Weekly (Starred Review)

"A completely unique world that enfolds the reader in mystery and wonder right through till the last page." —Romantic Times BookClub Magazine

"Brandon Sanderson is the real thing--an exciting storyteller with a unique and powerful vision. Elantris is one of the finest debuts I've seen in years." —David Farland

"Elantris is a new Ben Hur for the fantasy genre, with a sweeping, epic storyline and well-drawn and sympathetic characters." —Kevin J. Anderson

"While every new fantasy author is hailed as unique, new, and different, Brandon Sanderson's Elantris does indeed provide an absorbing adventure in a unique, different, and well-thought-out fantasy world, with a few nifty twists as well." —L. E. Modesitt, Jr.

"Sanderson's fantasy debut offers a vibrant cast of characters and a story of faith and determination set against a vividly portrayed world . . . filled with surprising twists and turns and a conclusion both satisfying and original." —Library Journal, Starred Review