Deadhouse Landing: Path to Ascendancy, Book 2 (A Novel of the Malazan Empire) (Hardcover)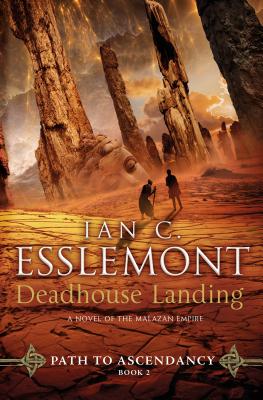 $29.99
Usually Ships in 1-5 Days
Description
---
Return to the turbulent history of what would become the Malazan Empire…
After the disappointments in Li Heng, Dancer and Kellanved wash up on a small insignificant island named Malaz. Immediately, of course, Kellanved plans to take it over. To do so they join forces with a small band of Napans who have fled their home. However, Kellanved is soon distracted by a strange and dangerous ancient structure. Back in Li Heng, Dassem, now the proclaimed Sword of Hood, finds himself being blamed for a plague which leads him to a crisis of faith - and searching for answers.
During all this, the neighboring island of Nap threatens war and allies are beginning to wonder about Kellanved's sanity. Dancer now faces a hard choice: should he give up on his partnership? Especially when his friend's obsession with shadows and ancient artifacts brings the both of them alarmingly close to death and destruction. After all, who in his right mind would actually wish to enter the Deadhouse?
About the Author
---
IAN C. ESSLEMONT grew up in Winnipeg, Manitoba. He has studied archaeology and creative writing, has traveled extensively in Southeast Asia, and lived in Thailand and Japan for several years. He lives in Alaska with his wife and children and writes novels set in the world of Malaz, a world he co-created with Steven Erikson, including Blood and Bone and Assail.
Praise For…
---
"Esslemont nails the feel and flavor of Erikson's books and brings the historical characters to life with a dexterity that will win over even the most skeptical fans."—Publishers Weekly
"Whether it's Erikson or Esslemont at the controls, it's in safe hands."—SFX