Blood Moon: The Rising series: Book 2 (Mass Market)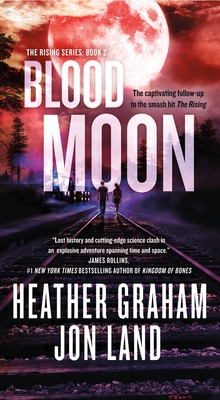 $9.99

NOT ON OUR SHELVES- available for order, usually ships in 1-5 days
Description
---
The action-packed follow up to The Rising, from acclaimed thriller-suspense novelists Heather Graham and Jon Land, this is Blood Moon.

The recipient of RWA's Lifetime Achievement Award and ITW's ThrillerMaster Award, Heather Graham is at the pinnacle of her career. Now she's teamed up with USA Today bestselling author Jon Land to continue the story of high school seniors Alex Chin and Samantha Dixon.

They may have managed to win a major battle against the powerful enemy determined to destroy civilization as we know it. But the war continues, with Alex and Sam embarking on a desperate journey to save mankind, even as their friendship blossoms into something much more.

The roadmap for their journey lies in a mysterious book, the language of which has never been deciphered, until Alex finds himself able to translate the words that may hold the keys to saving the future. Toward that end, Alex's and Sam's quest spirits them away to a myriad of locations around the world, each of which holds another piece of the puzzle that can defeat the alien invaders.

But an ageless foe, long the guardian of the secrets his race has left behind on Earth, arises to stop them at all costs. At his disposal is a deadly and merciless army that has been awaiting this very war, an army as unstoppable as it is relentless.

Over the ruins of the lost Mayan city of El Mirador, a blood moon is about to rise, triggering the end of mankind unless Alex and Sam can prevail in a struggle that will determine the fate of the planet. As forces both ancient and modern converge, as painful choices must be made and sacrifices accepted, two young heroes will rise again to stand as the final line of defense to preserve their world and their love.
About the Author
---
HEATHER GRAHAM is a New York Times and USA Today bestselling author. She majored in theater arts at the University of South Florida. Her first book was with Dell, and since then, she has written over one hundred novels and novellas including suspense, historical romance, vampire fiction, time travel, occult and Christmas family fare. Her titles include Phantom Evil, Ghost Walk, and Heart of Evil. She has been honored with awards from Walden Books, B. Dalton, Georgia Romance Writers, Affaire de Coeur, RT Book Reviews, and more.

Jon Land is the USA Today bestselling author of more than fifty books, over ten of which feature Texas Ranger Caitlin Strong. The critically acclaimed series has won more than a dozen awards, including the 2019 International Book Award for Best Thriller for Strong as Steel. He is also the author of Chasing the Dragon, a detailed account of the War on Drugs written with one of the most celebrated DEA agents of all time. A graduate of Brown University, Land lives in Providence, Rhode Island and received the 2019 Rhode Island Authors Legacy Award for his lifetime of literary achievements.
Praise For…
---
"Graham and Land team up again in Blood Moon, creating a blistering-paced thrill ride through high-tech labs and across the jungles of Guatemala. Lost history and cutting-edge science clash in an explosive adventure spanning time and space. I can't wait to see what happens to Sam and Alex next. Where do I book my ticket for the next ride?"
—James Rollins, #1 New York Times bestselling author of Kingdom of Bones

"I love The Rising Series by Heather Graham and Jon Land, and Blood Moon is an absolutely riveting adventure ride! You'll root for young heroes Alex Chin and Samantha Dixon as they show brilliance, resilience, and courage on an action-packed quest that takes them to a lost Mayan civilization - and even brings them closer to each other. This is a propulsive science-fiction thriller of the highest order!"
—Lisa Scottoline, #1 New York Times bestselling author of What Happened to the Bennetts

"Jon Land and Heather Graham have done it again! A desperate race to save all mankind, mixed with nonstop action and a budding romance, make Blood Moon your next great read."
—Lisa Gardner, #1 New York Times bestselling author of Before She Disappeared

"A grand slam, a seminal triumph in storytelling. . . . Blood Moon isn't just a throwback to the days of science fiction splashdowns galore by the likes of Ray Bradbury and H. G. Wells, it's also a wildly manic and supremely effective mashup of adventure and romance. . . . Spectacular action set pieces galore and a world hanging in the balance make this better and more fun than Stranger Things."
—Reader's Digest

"Heather Graham and Jon Land have hit this one out of the park. Blood Moon needs to be on every must-read list and should be on your night stand, library, or lap—only the book is so riveting that if you read it at night, you'll be left furiously turning the pages and might have to press the snooze button in the morning. Read this damned book!"
—Strand Magazine

"The book takes an already high-octane thriller, pumps up the stakes, and sends our heroes, Alex and Sam, on a quest to save the world. Blood Moon is very entertaining read, one that kept me thoroughly entertained as the plot spooled along, taking our heroes across the globe to face a variety of challenges. A very satisfying entry in a series that just keeps getting better."
—Mystery & Suspense Magazine

"Buckle up and hang on throughout this wild ride. Once again, the brilliant pairing of Heather Graham and Jon Land proves to be literary kismet, with their immense talents complementing each other to near perfection." —Bookreporter

"Blood Moon by Heather Graham and Jon Land is a phenomenal journey. This is the perfect YA paranormal sci-fi read. Overall, if you want a journey like no other filled with action, adventure, and deadly situations-then, this is the book you must read!"
—Urban Literary Magazine