Bridge of Spies: A True Story of the Cold War (Paperback)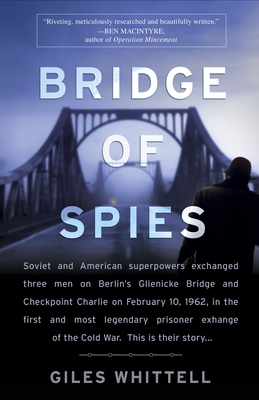 $16.00

NOT ON OUR SHELVES- available for order, usually ships in 1-5 days
Description
---
The "riveting, meticulously researched, and beautifully written" (Ben Macintyre, author of The Spy and the Traitor) true story chronicles the first and most legendary prisoner exchange of the Cold War, between East and West at Berlin's Glienicke Bridge and Checkpoint Charlie
 
"A marvelous saga of dangerous missions, helter-skelter innovation, and clandestine activity."—The Wall Street Journal

Who were the three men the American and Soviet superpowers exchanged at Berlin's Glienicke Bridge and Checkpoint Charlie in the first prisoner exchange of the nuclear age? Bridge of Spies vividly traces their paths to that electrifying moment on February 10, 1962, when their fates helped to define the conflicts and lethal undercurrents of the most dangerous years of the cold war.
 
Bridge of Spies is the true story of three extraordinary characters—William Fisher, alias Rudolf Abel, a British-born KGB agent arrested by the FBI in New York City and jailed as a Soviet superspy for trying to steal America's most precious nuclear secrets; Gary Powers, the American U-2 pilot who was captured when his plane was shot down while flying a reconnaissance mission over central Russia; and Frederic Pryor, a young American graduate student in Berlin mistakenly identified as a spy, arrested, and held without charge by the Stasi, East Germany's secret police.
 
Giles Whittell masterfully weaves the three strands of this story together and reconstructs the brinkmanship and covert mind games that brought the United States and Soviet Union so close to a hot war in the early 1960s. The exchange that day at two of the most sensitive points along the Iron Curtain represented the first step back from where the superpowers had stood since the building of the Berlin Wall the previous summer—on the brink of World War III.
About the Author
---
Giles Whittell is a writer for the Times of London. He has been the Times' correspondent in Moscow and Los Angeles and the Washington, DC bureau chief, and has written four previous books including two about the break-up of the Soviet empire.
Praise For…
---
"As thrilling as any spy novel . . . the author sets out the mysteries of spy craft in fascinating detail."—Associated Press