An Amish Table: A Recipe for Hope, Building Faith, Love in Store (Mass Market Paperbound)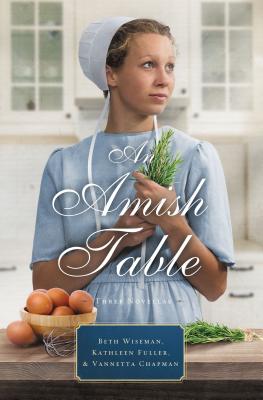 $7.99
Backordered or Out of Print
Description
---
A Recipe for Hope by Beth Wiseman
(Previously published in An Amish Kitchen)
When a storm blows a tree onto Eve Bender's farmhouse, she has little choice but to temporarily move her family into her parents' home. Outside of cooking together in the kitchen, Eve and her mother can't agree on anything. But this may be just the recipe for healing old wounds.
Building Faith by Kathleen Fuller
(Previously published in An Amish Home)
Faith Miller knows that carpentry is an unlikely hobby for a young Amish woman, but she loves the work and it keeps the memory of her grandfather alive. When her cousin asks Faith to build the cabinets in her new home, Faith is only too happy to take the job, even if it is her most ambitious project to date. The only catch is that she has to work with her ex-fiance, Silas. As they work together to build Martha's kitchen, they must learn to leave the past behind and build faith in one another again.
Love in Store by Vannetta Chapman
(Previously published in An Amish Market)
Stella Schrock works at the Old Mill in Nappanee, Indiana, with new employee David Stoltzfus, a recent widower. When strange events begin occurring around town, it appears as if someone wants to close the mill. Stella and David must work together to solve the mystery surrounding the Old Amish Mill, and in the process, they might just find that God has more in store for their future than they would have dreamed possible.