Operational Updates
Click HERE for the most updated hours, customer guidelines and updates to store policy.
Day of Reckoning (A Duff MacCallister Western #7) (Mass Market)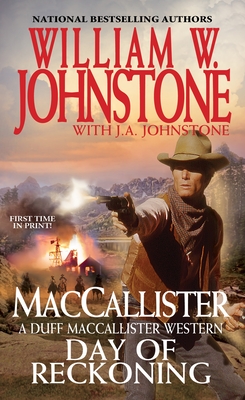 Other Books in Series
This is book number 7 in the A Duff MacCallister Western series.
Description
---
THE GREATEST WESTERN WRITERS OF THE 21ST CENTURY
 
The legendary MacCallister clan brought 500 years of Highlander tradition, honor, and fighting courage to the American frontier. In an astounding new novel from the national bestselling Johnstones, Duff MacCallister rides into the Colorado mountains with a young girl at his side—and a gang of stone-cold killers eagerly waiting for them . . .
 
DAY OF RECKONING
 
When Duff MacCallister sees smoke rising from his neighbor's ranch, he knows that something is very wrong. But he isn't prepared for what he finds: smoldering buildings, a rancher and his wife brutally slaughtered, and a 14-year-old survivor who could not save her parents. Now, Duff is going after the killers—and his only companion is the headstrong girl who refuses to be left behind.
 
Duff and  his new companion head into the towering Gore Range. Up ahead are two convicted murderers who were about to be hung in Cheyenne, and the killers who broke them lose. Duff doesn't have a plan—or a prayer. But the girl will be more help than he can know, and when the day of reckoning comes, bullets and blood will prove who is the bravest and fiercest fighter of all . . .
About the Author
---
William W. Johnstone is the USA Today and New York Times bestselling author of over 300 books, including PREACHER, THE LAST MOUNTAIN MAN, LUKE JENSEN BOUNTY HUNTER, FLINTLOCK, SAVAGE TEXAS, MATT JENSEN, THE LAST MOUNTAIN MAN; THE FAMILY JENSEN, SIDEWINDERS, and SHAWN O'BRIEN TOWN TAMER. His thrillers include Phoenix Rising, Home Invasion, The Blood of Patriots, The Bleeding Edge, and Suicide Mission. Visit his website at www.williamjohnstone.net or by email at dogcia2006@aol.com.

Being the all around assistant, typist, researcher, and fact checker to one of the most popular western authors of all time, J.A. Johnstone learned from the master, Uncle William W. Johnstone.

He began tutoring J.A. at an early age. After-school hours were often spent retyping manuscripts or researching his massive American Western History library as well as the more modern wars and conflicts. J.A. worked hard—and learned.
 
"Every day with Bill was an adventure story in itself. Bill taught me all he could about the art of storytelling. 'Keep the historical facts accurate,'  he would say. 'Remember the readers, and as your grandfather once told me, I am telling you now: be the best J.A. Johnstone you can be.'"