Operational Updates
Click HERE for the most updated hours, customer guidelines and updates to store policy.
The Stalking Death (A Duff MacCallister Western #8) (Mass Market)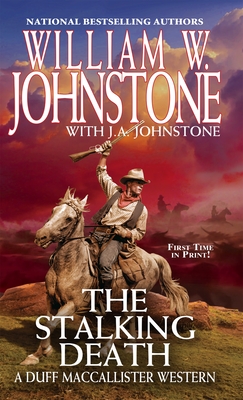 Other Books in Series
This is book number 8 in the A Duff MacCallister Western series.
Description
---
Johnstone Country. Where others fear to tread.
 
Descended from Scottish Highlanders and blood kin to Falcon and Jamie Ian, Duff MaCallister forged a bold new life on the American frontier. But he will always stay true to his clan's fighting spirit—when it comes to justice . . .
 
THE STALKING DEATH
 
There's something rotten in Wyoming, and it's not just the smell of cow pies—the first whiff is coming off the Laramie County Cattlemen. Right off the bat, Duff notices something odd: no small-time ranchers allowed. It's big-leaguers only. And none are bigger than Brad Houser, owner of the sprawling Twin Peaks ranch. He's up in arms over the small-timers claiming the unbranded mavericks who escape their herds. Which is perfectly legal. No brand, free cow.
 
 Houser has a plan to stop these former cowboys from taking their runaways. For $1000, Houser will make the small ranchers go away—six feet under. That makes Duff MacCallister madder than a wet hen . . . and his guns will do the screaming.
About the Author
---
William W. Johnstone is the New York Times and USA Today bestselling author of over 300 books, including the series THE MOUNTAIN MAN; PREACHER, THE FIRST MOUNTAIN MAN; MACCALLISTER; LUKE JENSEN, BOUNTY HUNTER; FLINTLOCK; THOSE JENSEN BOYS; THE FRONTIERSMAN; SAVAGE TEXAS; THE KERRIGANS; and WILL TANNER: DEPUTY U.S. MARSHAL. His thrillers include BLACK FRIDAY, TYRANNY, STAND YOUR GROUND, and THE DOOMSDAY BUNKER. Visit his website at www.williamjohnstone.net or email him at dogcia2006@aol.com.
 
Being the all-around assistant, typist, researcher, and fact checker to one of the most popular western authors of all time, J.A. Johnstone learned from the master, Uncle William W. Johnstone.  
 
He began tutoring J.A. at an early age. After-school hours were often spent retyping manuscripts or researching his massive American Western History library as well as the more modern wars and conflicts. J.A. worked hard—and learned.
 
"Every day with Bill was an adventure story in itself. Bill taught me all he could about the art of storytelling. 'Keep the historical facts accurate,' he would say. 'Remember the readers, and as your grandfather once told me, I am telling you now: be the best J.A. Johnstone you can be."