Bad Days for Bad Men: Smoke Jensen's American Justice (Mass Market)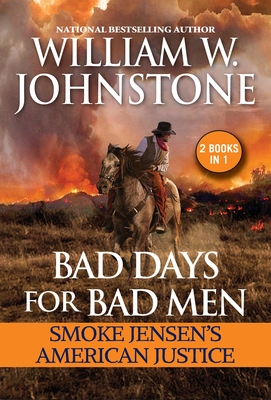 $9.99

NOT ON OUR SHELVES- available for order, usually ships in 1-5 days
Description
---
A man of the mountains, Smoke Jensen forged his steely brand of justice in the untamed, unforgiving wilderness of the American West. Bad Days for Bad Men presents two legendary adventures of the original Mountain Man by national bestselling authors William W. and J.A. Johnstone.

BETRAYAL OF THE MT MAN
Smoke is determined to stay on the right side of the law—until he's jumped by six low-life robbers who steal his shirt and his identity. Tried for robbery and murder, Smoke's sentenced to hang in the morning. But come sunup, he's already after the desperados who've set him up. Smoke's going to hunt them down one by one. Because nobody frames the Mountain Man. Nobody who plans on staying alive, that is . . .

RAMPAGE OF THE MT MAN
Smoke takes a contract to deliver three thousand head of cattle, but a renegade Cheyenne warrior uses an early winter blizzard to attack Smoke and his outgunned cowboys. Too bad it's only the first step in a journey built to test Smoke's mettle, because some people are hunting a payday of their own—for killing Smoke Jensen. Soon the streets of Laramie will run with blood . . .
About the Author
---
William W. Johnstone is the #1 bestselling Western writer in America and the New York Times and USA Today bestselling author of hundreds of books, with over 50 million copies sold. Born in southern Missouri, he was raised with strong moral and family values by his minister father, and tutored by his schoolteacher mother. He left school at fifteen to work in a carnival and then as a deputy sheriff before serving in the army. He went on to become known as "the Greatest Western writer of the 21st Century." Visit him online at WilliamJohnstone.net.

J.A. Johnstone learned to write from the master himself, Uncle William W. Johnstone, who began tutoring J.A. at an early age. After-school hours were often spent retyping manuscripts or researching his massive American Western History library as well as the more modern wars and conflicts. J.A. worked hard and learned, later going on to become the co-author of William W. Johnstone's many bestselling westerns and thrillers. J.A. Johnstone lives on a ranch in Tennessee and more information is at WilliamJohnstone.net.