The Revengers (A Jeremiah Halstead Western #3) (Mass Market)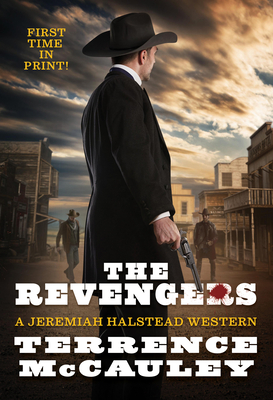 $8.99

Coming Soon - Available for Pre-Order Now
Other Books in Series
This is book number 3 in the A Jeremiah Halstead Western series.
Description
---
Hailed as the Elmore Leonard of a new generation, two-time Spur Award finalist and Peacemaker Award-winning author Terrence McCauley super-charges the lawless frontier of a 19th century Montana Territory mining town with his trademark gritty realism and high action, as Deputy U.S. Marshal Jeremiah Halstead battles a ruthless outlaw who's as cunning with a pen as he is deadly with a six-gun…

"McCauley's Westerns move at a pace that leaves readers sweating and out of breath. Blood on the Trail is one wild, entertaining ride." —Johnny D. Boggs

No sooner has Montana become a state than Zimmerman launches a diabolical campaign to turn a remote swath of land into an outlaw kingdom. Some of the richest mines in the West are in Zimmerman's sights, and he's rallied allies on both sides of the law to stake his claim.

The corpses are piled high in Halstead's war with the vicious outlaw, but now Zimmerman proves himself as cunning with a pen as he is deadly with a six-gun. When news of his plot reaches the state capital of Helena, U.S. Marshal Aaron Mackey and Deputy Billy Sunday step into the fray.

Halstead is taking no prisoners to prevent Zimmerman from getting filthy rich off land bought with dollars . . . and soaked in blood . . .
About the Author
---
Terrence P. McCauley is an award-winning writer of crime fiction, thrillers, historical fiction and Westerns. His Western fiction debut, Where the Bullets Fly, received a Western Fictioneers Peacemaker Award and was named Best New Western Paperback of the Year by True West magazine. Both Where the Bullets Fly and its follow-up, Dark Territory, were Spur Award-finalists. His short stories have been featured in Thuglit, Spinetingler Magazine, Shotgun Honey, Big Pulp, and other publications. An ITW Award nominee, he is a recipient of the Silver Medal for Historical Fiction from the Military Writers Society of America. He is a member of the New York City chapter of the Mystery Writers of America, the International Thriller Writers, the International Crime Writers Association, and the Montana Historical Society. A proud native of the Bronx, New York, he can be found online on Facebook, Twitter or at TerrencePMcCauley.com.
Praise For…
---
Praise for Terrence McCauley's Award-Winning Westerns
 
"A captivating Western...the setting is harsh and evocative; the villain is sufficiently slimy and scheming; and even the violence is gratifying, as the punches are strong and swift and the bullets whiz by close enough to make readers' hair stand on end. The plot progresses with calculated, yet dramatic, twists and turns...The author manages to craft an ending that will strike the reader's sweet spot between being deeply satisfied and yearning for more." —Booklist, STARRED REVIEW on Dark Territory
 
"McCauley's Westerns move at a pace that leaves readers sweating and out of breath. Blood on the Trail is one wild, entertaining ride." —Johnny D. Boggs
 
"Blood on the Trail is one action-packed, western…and Jeremiah Halstead is a lawdog to fog the outlaw trail with!" —Peter Brandvold, author of The Cost of Dying
 
"Comes out guns blazing from the very first page and doesn't let up until the action-packed finale...McCauley does an expert job of weaving suspense and intrigue into this traditional Western tale. Along with the enjoyable Western tropes, McCauley incorporates elements of a good old-fashioned mystery that make this book a real page-turner." —True West on Dark Territory
 
"At once a first-rate Western, expertly exploiting all the genre's tropes and traditions, and a political thriller, as Mackey needs to rely on his acumen as much as his brawn and shooting skills. Well-paced, its quieter moments are as compelling as its outstanding action set pieces. McCauley has definitely piqued my interest—I'm going to seek out previous works, as well as follow him in the future." —Mystery Scene
 
"Sheriff Mackey is a hard-nosed Western hero of the Civil War who packs a punch with both his fists and his guns. Prepare yourself for a fast-paced ride as you turn the pages as tension builds until the final chapter." —The Historical Novels Review on Dark Territory
 
"Terrance McCauley has done it again. The author of Where the Bullets Fly has followed it up with another excellent read, Dark Territory...Train robberies, labor agitators, small town elections, suicides, love interests, attempted assassinations, and shoot 'em ups fill the book. The action starts on the first page and keeps on going. Twists and turns kept me from figuring out the ending until I had only 2 1/2 pages left to read. Enough, I don't want this review to be as long as the book. Get it, read it, you will be glad you did." —Rope Burns
 
"Sheriff Mackey is clearly defined, realistic for the time period, and totally believable. The pace, from the opening pages to the final satisfying end is unrelenting. An exceptional Western novel." —Historical Novels Review on Where the Bullets Fly
 
"Fans of crime fiction and thrillers know Terrence McCauley as a first-rate storyteller who can handle action scenes while capturing the mood of New York City in the 1930s and today. Turns out, McCauley's more than a fair hand at Westerns too...Imagine a spaghetti Western with flawed characters and nonstop action. Or Rooster Cogburn, without the eyepatch and a whole lot meaner." —Roundup Magazine on Where the Bullets Fly
 
"A page-turner from start to finish. McCauley knows the genre, the terrain, the horses, and weapons. His interesting secondary characters seamlessly fit into the main storylines. Quieter passages of human interactions nicely counterbalance the hot action scenes." —Historical Novels Review on Get Out of Town

"Not just a rough-and-tumble Western page-turner. Violent episodes are nicely balanced by quiet passages of the adversaries planning how to stay alive and strike. McCauley deftly explores unbridled evil and the victim's impulse to soul-numbing revenge. Not all the good people survive; not all the bad men and women are brought to justice. But that makes the whole story all the more authentic. Highly recommended for readers of the Old West." —Historical Novels Review on The Dark Sunrise