Operational Updates
Dear Ripped Bodice Community,
We want to make sure we are keeping you updated on how we are handling this crisis. It's been a very challenging time but we are hanging in there.
The shop remains closed to all customers with no events on the calendar.
-Online orders
We are still accepting online orders and have adopted a process to best comply with the evolving guidelines from California and LA County Departments of Health.
This means that Leah is processing all incoming orders and our staff has been instructed to stay at home. Because this is now a one-woman operation, shipping may be slower than normal. We love and appreciate your support in this incredibly difficult time, so we ask that you bear with us as we continue to fill orders. Given the state of the world and The Post Office, we are strongly recommending that you use USPS flat rate shipping at this time to ensure the quickest and most accurate delivery.
-Care packages
We are now accepting new orders for care packages. However, because we are down to a shipping staff of one, we will be accepting orders in batches so as not to overwhelm Leah. Head to this link to enter your email address, and we'll send you the order link once it's your turn.
Questions about orders (or anything) can be directed to hello@therippedbodicela.com
Finally, now is a great time to think about becoming a Patron of the store.
http://patreon.com/TheRippedBodice
There is already a ton of cool content you can check out on our page. Including 12 original short stories from some amazing romance authors. Vlogs and other fun stuff. We know this is not an option for everyone and that's totally okay and understandable. But if you're looking for a way to help, this is a great option.

We hope you are all doing okay and making it through one day at a time.
xoxo, Bea & Leah and Fitz
Vanessa and Her Sister: A Novel (Paperback)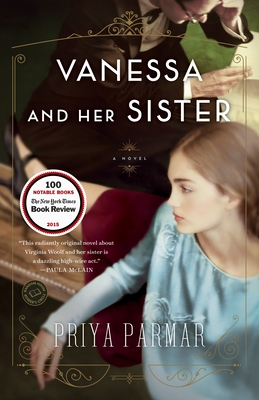 January 2015 Indie Next List
---
"This novel tells the story of sisters Vanessa and Virginia Stephens, later to become Vanessa Bell and Virginia Woolf. Vanessa, an emerging painter, tells their stories in her journal accompanied by the letters and telegrams of their families, husbands, and the many brilliant artists and painters in their circle. It is a story of art, literature, betrayal, emotional upheaval, and, above all, the many complicated forms love takes. Set against the backdrop of Edwardian England, a time of sweeping social transformations, Vanessa and Her Sister is a moving portrait of a brilliant family."
— Staci Rice, Bluebird Books, Hutchinson, KS
Description
---
A New York Times Notable Book • An Entertainment Weekly "Must List" Pick • "Prepare to be dazzled."—Paula McLain • "Quite simply astonishing."—Sarah Blake

What if Virginia Woolf's sister had kept a diary? For fans of The Paris Wife and Loving Frank comes a spellbinding new story of the inseparable bond between Virginia and her sister, the gifted painter Vanessa Bell, and the real-life betrayal that threatened to destroy their family. Hailed by The New York Times Book Review as "an uncanny success" and based on meticulous research, this stunning novel illuminates a little-known episode in the celebrated sisters' glittering bohemian youth among the legendary Bloomsbury Group.

Find your next book club pick, read special features, and more. Join the Random House Reader's Circle.

London, 1905: The city is alight with change, and the Stephen siblings are at the forefront. Vanessa, Virginia, Thoby, and Adrian are leaving behind their childhood home and taking a house in the leafy heart of avant-garde Bloomsbury. There they bring together a glittering circle of bright, outrageous artistic friends who will grow into legend and come to be known as the Bloomsbury Group. And at the center of this charmed circle are the devoted, gifted sisters: Vanessa, the painter, and Virginia, the writer.

Each member of the group will go on to earn fame and success, but so far Vanessa Bell has never sold a painting. Virginia Woolf's book review has just been turned down by The Times. Lytton Strachey has not published anything. E. M. Forster has finished his first novel but does not like the title. Leonard Woolf is still a civil servant in Ceylon, and John Maynard Keynes is looking for a job. Together, this sparkling coterie of artists and intellectuals throw away convention and embrace the wild freedom of being young, single bohemians in London.

But the landscape shifts when Vanessa unexpectedly falls in love and her sister feels dangerously abandoned. Eerily possessive, charismatic, manipulative, and brilliant, Virginia has always lived in the shelter of Vanessa's constant attention and encouragement. Without it, she careens toward self-destruction and madness. As tragedy and betrayal threaten to destroy the family, Vanessa must decide if it is finally time to protect her own happiness above all else.

The work of exciting young newcomer Priya Parmar, Vanessa and Her Sister exquisitely captures the champagne-heady days of prewar London and the extraordinary lives of sisters Vanessa Bell and Virginia Woolf.

Praise for Vanessa and Her Sister

"Fiction and history merge seamlessly in this dazzling novel."—Entertainment Weekly

"Being related to Virginia Woolf can't have been easy. In this delightful novel, Parmar re-imagines the brilliant, fragile writer and her turn-of-the-century bohemian friends. . . . You'll be spellbound."—People

"Rarely do you encounter a woman who commands as much admiration as does the painter Vanessa Bell in Priya Parmar's multilayered, subtly shaded novel."—The New York Times Book Review

"[A] gossipy, entertaining historical novel . . . Parmar conjures a devastating fictional portrait."—USA Today

"Captivating . . . echoes of Austen's Sense and Sensibility emerge in Parmar's portrayal."—Newsday

"An elegant, entertaining novel that brings new life to the Bloomsbury Group's intrigues."—The Dallas Morning News
About the Author
---
Educated at Mount Holyoke College, the University of Edinburgh, and the University of Oxford, Priya Parmar is the author of one previous novel, Exit the Actress. She divides her time between Hawaii and London.
Praise For…
---
"Fiction and history merge seamlessly in this dazzling novel."—Entertainment Weekly

"Being related to Virginia Woolf can't have been easy. In this delightful novel, [Priya] Parmar re-imagines the brilliant, fragile writer and her turn-of-the-century bohemian friends, the famous Bloomsbury set, through the eyes of her painter sister Vanessa. . . . You'll be spellbound."—People

"Rarely do you encounter a woman who commands as much admiration as does the painter Vanessa Bell in Priya Parmar's multilayered, subtly shaded novel. . . . Parmar's fabricated journal is an uncanny success. Its entries, plausible and graceful, are imbued with the same voice that can be found in letters by or about Vanessa. . . . Parmar gives truth and definition to the character of a woman whose nature was as elusive as her influence was profound. She has caught the phantom."—The New York Times Book Review
 
"In her gossipy, entertaining historical novel about the British bohemians, Priya Parmar conjures a devastating fictional portrait of one of those triangles—the great writer Virginia Woolf; her sister, the painter Vanessa Bell; and Vanessa's husband, art critic Clive Bell. . . . Parmar's perceptive and well-informed fill-in-the-blanks approach—and her elegant, accessible style—makes for some tasty, frothy Bloomsbury pie, indeed."—USA Today
 
"Captivating . . . echoes of Austen's Sense and Sensibility emerge in Parmar's portrayal."—Newsday

"An elegant, entertaining novel that brings new life to the Bloomsbury Group's intrigues."—The Dallas Morning News
 
"You'll get lost in the worlds of Vanessa Bell and her sister, Virginia Woolf, as they struggle to make it as a painter and an author, respectively, in prewar London—but more so than art, this is a story of sisterhood."—Glamour
 
"Parmar ambitiously attempts to show us through the eyes of Vanessa Bell, a celebrated painter in her own right, in her inventive, meticulously researched Vanessa and Her Sister. . . . The Bloomsbury Group were famous for their weekly salons, which were fueled by intellectual discourse, banter and booze; in Parmar's story, you can almost hear the glasses tinkling. But the author's greatest triumph is giving voice to the steady, loyal, motherly Vanessa, who lived nobly in her sister's shadow only to experience a heartbreaking betrayal."—Good Housekeeping
 
"Parmar inhabits the gilded 'bohemian hinterland' of Virginia Woolf and her sister Vanessa, creating a vibrant fictional homage."—O: The Oprah Magazine
 
"This novel about sisters of Bloomsbury is a twofer: Read it for the story; literary history is a bonus."—AARP Bulletin
 
"Vanessa and Her Sister provides a fascinating take on this literary family, and the affection and exasperation Virginia's sister might have felt living with a genius, who was prone to fits of madness. If you're at all interested in Virginia Woolf, or just a fan of a good piece of historical fiction, in the vein of The Paris Wife, this book's the one for you."—Bustle
 
"The pretzeled plot unfolds at a steady pace, in crisp period prose, and rarely feels inevitable."—New York
 
"Captivating . . . a subtle exploration of the sisters' complicated emotional life . . . Through letters and Vanessa's journal entries, [Parmar] captures the excitement of social experimentation."—BBC
 
"Parmar does a stellar job conveying Virginia's complicated, almost incestuous feelings for Vanessa. . . . The author also deftly brings to life the various artists and writers who formed the nascent Bloomsbury group. . . . Parmar's narrative is riveting and successfully takes on the task of turning larger-than-life figures into real people. . . . [She] weaves their stories together so effortlessly that nothing seems out of place."—Publishers Weekly (starred review)
 
"[A] nuanced account . . . A devoted, emotionally intense portrait of the Bloomsbury group focuses in particular on sisters Vanessa Bell and Virginia Woolf. . . . Vanessa, the artist, emerges as 'an ocean of majestic calm,' almost infinitely tolerant of her sister, the writer, whose capricious, jealous nature, though tempered by intellectual brilliance and immense charm, tips over at times into madness and suicidal thoughts. . . . Not exactly uncharted territory, but Parmar enters it with passion and precision, delivering a sensitive, superior soap opera of celebrated lives."—Kirkus Reviews (starred review)
 
"The book's strength lies in the well-written relationship between Vanessa and Virginia, sure to appeal to fans of Michael Cunningham's The Hours."—Library Journal
 
"Rich with atmospheric detail . . . Readers are in for a treat. Vanessa Bell is the sister of Virginia Woolf, and thus you can imagine why this novel is just wonderful."—Bookreporter

"Priya Parmar is on a high-wire act all her own in this radiantly original novel about the Bloomsbury Set. Irrepressible, with charm and brio to spare, Vanessa and Her Sister boldly invites us to that moment in history when famous minds sparked and collided. Prepare to be dazzled."—Paula McLain, author of The Paris Wife
 
"With sparkling wit and insight, Priya Parmar sets us down into the legendary Bloomsbury household of the Stephen siblings, where sisters Vanessa and Virginia vie for love and primacy amidst a collection of eccentric guests. Vanessa and Her Sister kidnapped me for a couple of days. I couldn't put it down."—Nancy Horan, author of Under the Wide and Starry Sky
 
"I loved this brilliant depiction of the true price of genius. Parmar's novel shines a bright light into the empty spaces between the lines of history."—Helen Simonson, author of Major Pettigrew's Last Stand
 
"This is the novel I didn't know I was waiting for, and it is, quite simply, astonishing: not just because of Priya Parmar's preternatural skill at evoking the moment when the lid was coming off the Victorians, but because of how she has caught the two sisters at the center of that swirl. It is beautiful, wise, and as deft as a stroke upon the canvas."—Sarah Blake, author of The Postmistress
 
"Priya Parmar is a powerful new voice in historical fiction. This novel explores the anguished relationship between Virginia Woolf and her sister, and provides a new view of the artistic, sensual Bloomsbury world, placing Vanessa Bell at the heart of the story."—Philippa Gregory, author of The King's Curse
 
"Vanessa and Her Sister is an account of my grandmother's early life, told with faith, elegance, and an almost uncanny insight into the subject. But this is also an absorbing work of fiction—and Priya Parmar has made Vanessa's story her own."—Virginia Nicholson, Vanessa Bell's granddaughter and author of Among the Bohemians