The Case for U.S. Nuclear Weapons in the 21st Century (Paperback)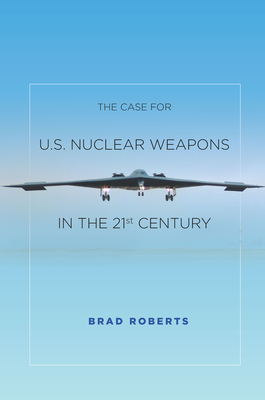 $29.95

NOT ON OUR SHELVES- available for order, usually ships in 1-5 days
Description
---
This book is a counter to the conventional wisdom that the United States can and should do more to reduce both the role of nuclear weapons in its security strategies and the number of weapons in its arsenal. The case against nuclear weapons has been made on many grounds—including historical, political, and moral. But, Brad Roberts argues, it has not so far been informed by the experience of the United States since the Cold War in trying to adapt deterrence to a changed world, and to create the conditions that would allow further significant changes to U.S. nuclear policy and posture.

Drawing on the author's experience in the making and implementation of U.S. policy in the Obama administration, this book examines that real world experience and finds important lessons for the disarmament enterprise. Central conclusions of the work are that other nuclear-armed states are not prepared to join the United States in making reductions, and that unilateral steps by the United States to disarm further would be harmful to its interests and those of its allies. The book ultimately argues in favor of patience and persistence in the implementation of a balanced approach to nuclear strategy that encompasses political efforts to reduce nuclear dangers along with military efforts to deter them.


About the Author
---
Brad Roberts is Director of the Center for Global Security Research at Lawrence Livermore National Laboratory. From 2013 to 2014 he was a William J. Perry Fellow at Stanford University's Center for International Security and Cooperation. From 2009 to 2013, he served as Deputy Assistant Secretary of Defense for Nuclear and Missile Defense Policy.
Praise For…
---
"Brad Roberts combines analytical skills and government experience to illuminate the nuclear choices of the 21st century. This lucid and original analysis of the deterrence landscape is just what we need to counter the misplaced hopes of 'urgent abolition' and the fallacies of the 'irrelevance of nuclear weapons'. Many Americans and Europeans need a nuclear reality check, and Brad Roberts has just offered it."—Dr. Bruno Tertrais, Senior Research Fellow, Foundation for Strategic Research, Paris

"As an 'intellectual veteran' of the Cold War, I'm amazed at how much harder it is to comprehend the nuclear weapons issues of this new century. Brad Roberts's new book, The Case for Nuclear Weapons in the 21st Century, can bring you up to date, as it did me. This is essential reading for anyone who wants to understand the new complexity of nuclear strategy and defense strategy more generally."—Thomas Schelling, University of Maryland, College Park

"Brad Roberts brilliantly analyzes today's security landscape, the theories of victory by which nuclear-armed adversaries hope to prevail against a conventionally superior United States, and what America needs to do about it. A must-read for scholars who want to understand and practitioners who need to manage 21st-century nuclear realities."—Linton Brooks, Former Administrator, National Nuclear Security Administration

"This book is an excellent contribution to the debate on the future role of nuclear weapons and nuclear deterrence in American foreign policy [Roberts] rightly argues that the USA cannot ignore North Korea's, Russia's and China's 'red theories of victory' and his book is an invaluable source that helps to understand them."—Mario E. Carranza, Contemporary Security Policy