Operational Updates
Click HERE for the most updated hours, customer guidelines and updates to store policy.
Man-Hunters of the Old West, Volume 2 (Hardcover)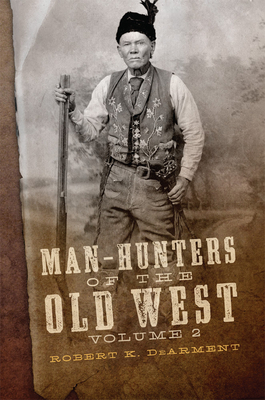 $29.95

NOT ON OUR SHELVES- available for order, usually ships in 1-5 days
Description
---
Until the early twentieth century, life in the American West could be rough and sometimes vicious. Those who brought thieves and murderers to justice at times had to employ tactics as ruthless as their prey. In this follow-up to his first collection of biographies of the West's most recognized man-hunters, noted western historian Robert K. DeArment recounts the remarkable careers of eight men--Pat Garrett, John Hughes, Harry Love, Harry Morse, Frank Norfleet, Bass Reeves, Granville Stuart, and Tom Tobin--who pursued notorious criminals. Volume 2 of Man-Hunters of the Old West shows that limited resources and dire conditions often made extralegal violence necessary for survival. Harry Love, the famous killer of California bandito Joaquin Murrieta, and Tom Tobin, who ended the murders of the Espinosa gang in Colorado, tracked their quarries to remote hideouts, shot them, and cut off their heads to prove they had been eliminated. Felon trackers, like the vigilante organizations that preceded them, on occasion administered summary justice--the on-the-spot hanging of their captured prey--especially if they believed the established court system was not working. Some of the man-hunters in DeArment's accounts were freelance scouts and trackers; others were career officers of the law. At least one, Frank Norfleet, was a private citizen turned dedicated nemesis of con artists. Love, Stuart, and Morse began life as easterners who made their way West. All the others were midwesterners or far westerners. Some of these man-hunters wrote about their adventures, and were written about in turn. Garrett's account of his hunt for Billy the Kid remains a best seller, for example, and both Reeves and Hughes have been credited for inspiring the Lone Ranger of TV and movie fame. DeArment discusses constant threats to the man-hunters' survival, the federal government's undependable presence, and extralegal violence as major themes in western law enforcement. In recounting these eight men's adventures, this volume reveals the forces that made brutality seem commonplace.