What to Eat When You Want to Get Pregnant: A Science-Based 4-Week Nutrition Program to Boost Your Fertility (Hardcover)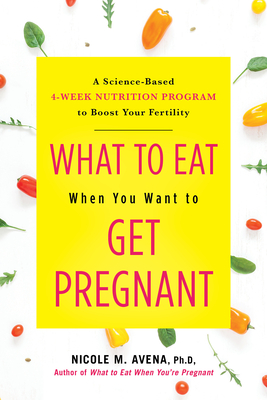 $26.00

NOT ON OUR SHELVES- available for order, usually ships in 1-5 days
Description
---
Making a healthy baby begins with healthy ingredients.

Dr. Nicole Avena--nutrition expert and author of What to Eat When You're Pregnant--presents the preface to that guide, new revolutionary research on how nutrition impacts the ability to conceive and offers a 4-week plan to get readers on the path to parenthood.

Joining the ranks with pregnancy experts such as Heidi Murkoff, Dr. Avena is back and here to help. Making a healthy baby begins with healthy ingredients. Learn how to hack your diet to increase fertility--getting your body into the best baby-making shape--in only four weeks!

The latest research reveals that by optimizing nutrition, you can boost your chances of conceiving and having a safe, healthy pregnancy and baby. But with so much information out there, how can you make sure you're getting the nutrients you need to maximize fertility and avoiding the seemingly healthy foods that could be interfering with fertility? In this comprehensive guide, diet and nutrition expert and research neuroscientist Dr. Nicole Avena offers revolutionary science-based advice for women and men who are either thinking about having a baby, already trying, or dealing with fertility issues. Dr. Avena pares down the research so that you can apply the new science to your real life, including valuable information such as:



• What nutrients are specifically tied to fertility and pregnancy, how much of each you need, why you need it, and which food sources are best
• Which plant-based protein sources promote pregnancy without disrupting hormone levels
• Why men's fertility is just as important as women's, and which foods can increase sperm motility and health
• How to add pregnancy-friendly fats to your diet
• The truth about the link between body weight and fertility

...and much more, including a 4-week plan to get you started on the path to parenthood. A psychologist and mother herself, Dr. Avena also offers practical advice, as well as 40 delicious, simple recipes that you can easily incorporate into your lifestyle to create the best environment for your baby-to-be--one that will positively impact the whole family, all while feeling better than you've ever felt.
About the Author
---
Dr. Nicole Avena, PhD, is a research neuroscientist, author, and expert in the fields of nutrition, diet, and addiction. She received a PhD in neuroscience and psychology from Princeton University, followed by a postdoctoral fellowship in molecular biology at The Rockefeller University in New York City. Her research has been featured in Shape, Men's Health, Glamour, Details, Women's Health, Prevention, National Geographic, Time Magazine for Kids, and many others and she regularly appears on television, including The Dr. Oz Show, The Doctors, the Hallmark Channel, and Good Day NY. She makes public speaking appearances throughout the US, Europe, and Asia. Dr. Avena has written extensively on topics related to food, addiction, obesity, and eating disorders, and she writes the Food Junkie blog for Psychology Today and also blogs for Huffington Post. You can follow her on Instagram, Twitter, and Facebook, and visit her Website at DrNicoleAvena.com.
Praise For…
---
Praise for What to Eat When You Want to Get Pregnant

"Science shows that nutrition impacts not only the ability to conceive, but also contributes greatly to a healthy pregnancy. Neuroscientist Dr. Nicole Avena gives both women and men the information they need to optimize their fertility as well as their own long-term health. Anyone who is trying to have a baby, is thinking about it, or dealing with fertility issues needs to read this book."
—Sara Gottfried MD, New York Times bestselling author of The Hormone Cure

"Dr. Avena successfully takes on the daunting task of simplifying the current scientific data to empower the reader. This book will add to my recommendations of important resources for my patients."
—Mark P. Trolice, MD, director, Fertility Care: The IVF Center and author of The Fertility Doctor's Guide to Overcoming Infertility

"Where was this book when I was trying to get pregnant?  Lucky for you, it is now available thanks to Dr. Nicole Avena, an expert I admire in health and neuroscience. What to Eat When You Want to Get Pregnant will give you science-based solutions to boost your fertility and health leading up to and after parenthood. "
—Laurie David, author, environmental advocate, producer of An Inconvenient Truth
 
"Science shows that nutrition impacts not only the ability to conceive, but also contributes to a healthy pregnancy. Dr. Nicole Avena gives both women and men the information they need to optimize their fertility as well as their own long-term health. Everyone who wants to have a baby at some point—and particularly women who are actively trying to have one right now--need to read this book."
—Katherine Ryder, Founder and CEO of Maven 

"I love this book! This is exactly the information I want to share with my patients who are dealing with pregnancy and infertility."
—Sarah Samaan, MD, FACC
 
"Practical strategies and healthy eating guides for men and women who will now have a marvelous and valuable tool to use nutrition to boost fertility."
—Dr. Michael Goran, Professor of Pediatrics at Children's Hospital Los Angeles and author of Sugarproof
 
"As a nutrition expert and mom, this book will be on my must-read list for every woman I know looking to optimize their diet for fertility."
—Patricia Bannan, MS, RDN, nationally recognized nutritionist and healthy cooking expert
 
"This is the only book of its kind, because alongside the hard science, Dr. Avena also provides practical advice gleaned from her experience as a mother of two children."
—Dr. Vera Tarman, author of Food Junkies: Recovery from Food Addiction
 
"New research shows that when you're eating for two, your diet can have profound effects on your baby. In this smart and easy-to-follow guide—which also features simple and delicious recipes—Dr. Nicole Avena tells moms-to-be how to give their babies a healthy start in life by eating foods that support baby's development and keep mom feeling nourished and satisfied. A copy of this book should be on every pregnant woman's bookshelf."
—Mark Hyman, MD, #1 New York Times bestseller
 
"Dr. Nicole Avena is a renowned expert in the fields of neuroscience, nutrition, and obesity research. In her latest book, What to Eat When You're Pregnant, she has applied her expertise to create a week-by-week guide for moms-to-be. What to Eat When You're Pregnant provides solid information about which nutrients, vitamins, and minerals your body needs during each week of your pregnancy and what foods to add to your diet to nourish your body and your growing baby. The recipes are easy to follow and can easily be adapted to fit any dietary preferences."
—Dr. Alexis Conason, psychologist and research associate at New York's Mount Sinai-St. Luke's Hospital
 
"A comprehensive guide recommended for ALL women contemplating the journey of pregnancy and motherhood; it's a great read for the fathers as well! This is an excellent resource that should be available to expectant mothers in obstetrician/gynecologist medical practices nationwide."
—Joy Ohayia, PhD, producer and host of The Dr. Joy Show and total wellness practical advisor

"Given the increasing challenges to achieving (and maintaining) a healthy pregnancy, Nicole Avena's immensely useful and readable What to Eat When You Want to Get Pregnant is just the book we need right now.…Full of humor, practical advice on foods to eat (and avoid) and recipes to prepare them, every young couple trying to conceive will want to buy (and frequently reference) this valuable resource." 
—Dr. Shanna Swan, author of Count Down: How Our Modern World Is Threatening Sperm Counts, Altering Male and Female Reproductive Health, and Imperiling the Future of the Human Race

"There's nothing more heartbreaking than wanting a baby but not being able to conceive. While we do have assisted reproductive technologies, how about do-it-yourself? Way more effective, and way more fun. Dr. Avena has assembled the science of nutrition and fertility in one place to help your chances for success."
—Robert H. Lustig, M.D., M.S.L., University of California, San Francisco
 
"You can't always control how quickly you will get pregnant, but you can improve your chances of a healthy pregnancy through lifestyle choices and nutrition. Dr. Avena's latest book, which walks through the Four-Week Fertility-Boosting Plan, is well-researched and easy to follow. I highly recommend this book for people in the TTC (trying to conceive) journey to better understand how fertility and nutrition are intertwined, and what you can do to optimize your chances."
—Halle Tecco, CEO, Natalist

"What to Eat When You Want to Get Pregnant offers an evidence-based and user-friendly program to boost fertility. If you want to have a baby, read this book!"
—Lisa Young, PhD, RDN, author of Finally Full, Finally Slim and adjunct professor of nutrition at NYU

"I love this book! Dr. Nicole Avena provides a wealth of trustworthy guidance about fertility-boosting nutrition in a friendly and easy to access format. This book also incorporates important tips on ways to avoid unwelcome toxic chemicals lurking in the kitchen that can be harmful to a woman's health and pregnancy. A wonderful resource for moms-to-be!" 
—Alexandra Destler, EdM, SafetyNEST Founder and CEO