Restoring Your Digestive Health: A Proven Plan to Conquer Crohns, Colitis, and Digestive Diseases (Paperback)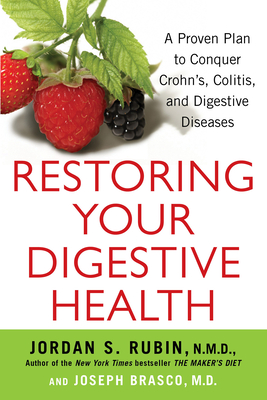 $15.95

NOT ON OUR SHELVES- available for order, usually ships in 1-5 days
Description
---
New York Times bestselling author of The Maker's Diet and one of America's most respected natural health experts, Jordan Rubin delivers a message of health and hope to anyone suffering from digestive diseases in Restoring Your Digestive Health. In this newly reissued edition, Jordan Rubin shares his personal story of recovery from nearly fatal Crohn's Disease and how it led him to develop this revolutionary wellness program based on a more historically and biologically correct diet, including the use of fermented foods and homeostatic soil organisms.

Conquer Crohn's, Colitis, and Digestive Diseases

Long before Jordan Rubin became one of America's most respected natural health experts, Crohn's disease nearly ended his life. A once-healthy teenager, Jordan suffered the debilitating effects of the painful and potentially fatal wasting intestinal illness. In desperation, he consulted more than seventy medical experts in seven countries, and tried hundreds of nutritional supplements, with no improvement. Finally, Jordan researched and developed a revolutionary wellness program based on a more health-promoting diet, including the use of fermented foods, bone broths, and soil-based organisms (SBOs), an often-overlooked but critical component of our ancestors' primitive diet.

Within months, Jordan's health improved. Years later, he remains free of disease or medications. He calls his regimen the Guts and Glory Program, but if you suffer from Crohn's or any of a host of other digestive or systemic disorders, you'll call it amazing. This program helps heal:

*Crohn's disease or ulcerative colitis • Irritable bowel syndrome • Gluten or lactose intolerance • Candida (yeast) infections • Food allergies • Recurring or persistent nausea • Chronic constipation • Urinary tract infections • And many more serious aliments

You'll also learn:

• Why fermented foods and HSOs are vital to good health--and why they're missing from today's diets • How a "primitive" lifestyle offers very modern health benefits
• How to find and prepare delicious meals the primitive way • What dietary supplements can help--and which to avoid

Jordan continues to share his message of hope and healing through his books, videos, and nutritional products. In Restoring Your Digestive Health, you'll learn to do just that, and live a pain-free, nourishing life.
About the Author
---
Jordan Rubin, one of America's most recognized and respected natural health experts, is the New York Times bestselling author of The Maker's Diet and 25 additional titles. An eco-entrepreneur, doctor of naturopathic medicine, and certified nutritional consultant, he is the founder of Garden of Life®, the leading whole food nutritional supplement company, and Beyond Organic, a vertically integrated organic food, beverage and dietary supplement manufacturer. He has formulated hundreds of dietary supplements, functional foods and beverages including many #1 top sellers in the Healthy Foods channel. He also is the founder of Heal the Planet Farm, a regenerative permaculture retreat located in Missouri's Ozark mountains within the four-thousand-acre Beyond Organic Ranch. In 2016, along with co-founder Dr. Josh Axe, Jordan Rubin launched Ancient Nutrition, a company that brings the principals of Ancient Nutrition to the modern world. The father of six, he lives with his wife near Nashville.

Joseph Brasco, MD, attended medical school at Medical College of Wisconsin. He completed his Internal Medicine residency and gastroenterology fellowship at the University of Illinois in Chicago. He is affiliated with the Huntsville Hospital Digestive Disease Center in Huntsville, Alabama.