Operational Updates
Click HERE for the most updated hours, customer guidelines and updates to store policy.
Sanctified Sex: The Two-Thousand-Year Jewish Debate on Marital Intimacy (Paperback)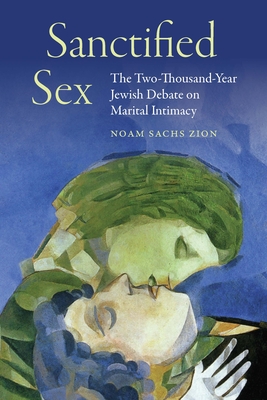 $36.00

NOT ON OUR SHELVES- available for order, usually ships in 1-5 days
Description
---
Sanctified Sex draws on two thousand years of rabbinic debates addressing competing aspirations for loving intimacy, passionate sexual union, and sanctity in marriage. What can Judaism contribute to our struggles to nurture love relationships? What halakhic precedents are relevant, and how are rulings changing?

The rabbis, of course, seldom agree. Underlying their arguments are perennial debates: What kind of marital sex qualifies as ideal—sacred self-control of sexual desire or the holiness found in emotional and erotic intimacy? Is intercourse degrading in its physicality or the highest act of spiritual/mystical union? And should women or men (or both) wield ultimate say about what transpires in bed?

Noam Sachs Zion guides us chronologically and steadily through fraught terrain: seminal biblical texts and their Talmudic interpretations; Talmud tales of three unusual rabbis and their marital bedrooms; medieval codifiers and mystical commentators; ultra-Orthodox rabbis clashing with one another over radically divergent ideals; and, finally, contemporary rabbis of varied denominations wrestling with modern transformations in erotic lifestyles and values.

Invited into these sanctified and often sexually explicit discussions with our ancestors and contemporaries, we encounter innovative Jewish teachings on marital intimacy, ardent lovemaking techniques, and the art of couple communication vital for matrimonial success.
About the Author
---
Noam Sachs Zion has been a senior research fellow at the Shalom Hartman Institute in Jerusalem since 1978 and taught on the faculty of the Rabbinic Enrichment Center. His popular publications include the best seller A Different Night: The Family Participation Haggadah.
Praise For…
---
"Noam Zion has written another classic. This treasure trove of sources and insights from the full spectrum of a four-thousand-year-old tradition, uncensored, from the Bible and Talmud down to modern liberal rabbis and feminists, might be called The Art of Halachic Loving because it is not just a static anthology; it is shaped to guide and enhance the pleasure of sex and the depth of development of intimacy, communication and relationship. This is a book to be read, savored, reflected on, discussed, and applied to life."—Blu Greenberg and Yitz Greenberg, authors, respectively, of On Women and Judaism and The Jewish Way

"Combining exacting, serious textual analysis with entertaining, often comical stories of rabbis and their sexual habits, Noam Zion takes us for a ride through the highways and byways of the Jewish erotic imagination. He deserves high praise for his erudition, creativity, and courage."—Shaul Magid, professor of Jewish Studies, Dartmouth College, and author of American Post-Judaism: Identity and Renewal in a Postethnic Society

"Noam Zion masterfully illuminates how two thousand years of commentary and debate have amplified the subject of sex in Jewish tradition and enriched it with nuance. Engage your mind, open your heart, and take this book to your bed!"—Rachel Biale, author of Women and Jewish Law and Growing Up Below Sea Level: A Kibbutz Childhood

"Who knew that there was so much marital drama in rabbinic literature? Noam Zion has provided the definitive anthology and comparative commentary on this subject."—David Biale, Emanuel Ringelblum Distinguished Professor of Jewish History, University of California, Davis, and author of Eros and the Jews and Hasidism: A New History

"Moving effortlessly between traditional Jewish sources produced throughout history, Noam Zion makes us reflect, as Jews and simply as humans, on what's actually at stake in conjugal relationships. I strongly recommend this erudite, accessible, sensitive, and witty guide to all."—Michael Satlow, professor, religious and Judaic studies, Brown University, and author of Tasting the Dish: Rabbinic Rhetorics of Sexuality

"Sanctified Sex is a learned, insightful, and engaging treatment of Jewish teachings concerning love and sex. For the rabbi who thinks s/he already knows it all or the graduate student who wants to know it all, there is no better resource. Noam Zion is a scholar who writes with a clear, accessible voice, and readers who are willing to dive deep into this subject will find themselves immensely rewarded by his masterful treatment."—David Kraemer, professor of Talmud and Rabbinics, Jewish Theological Seminary, and author of A History of the Talmud

"Sanctified Sex is both timeless and timely. For the mainstream Jewish community, which tends to default to saying that Judaism is sex-positive (in contrast with Christianity), this deeper examination is warranted. For the academic community, the different eras the book encompasses guarantee a broad range of applicability. For the general community, Noam Zion is asking a key human question: what tools can I find to strengthen a long-term marriage?"—Rabbi Lisa Grushcow, senior rabbi, Temple Emanu-El-Beth Sholom, Montreal, and editor of The Sacred Encounter: Jewish Perspectives on Sexuality