Vintage Saints and Sinners: 25 Christians Who Transformed My Faith (Hardcover)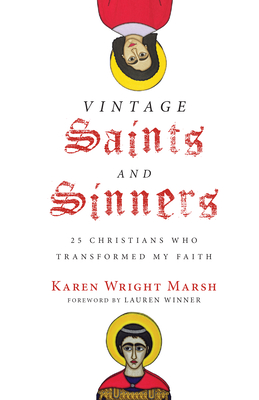 $20.00
Backordered or Out of Print
Description
---
Outreach Resource of the Year
Foreword INDIES Award Finalist

Saints are people too.
The word saint conjures up images of superstar Christians revered for their spectacular acts and otherworldly piety. But when we take a closer look at the lives of these spiritual heavyweights, we learn that they also experienced struggle, doubt, and heartache.
In fact, we learn that in many ways they're not all that different from you and me.
Narrating her own winding pilgrimage through faith, Karen Marsh reveals surprising lessons in everyday spirituality from these "saints"--folks who lived and breathed, and failed and followed God. Told with humor and vulnerability, Vintage Saints and Sinners introduces us afresh to twenty-five brothers and sisters who challenge and inspire us with their honest faith.
Using the included conversation starters, you can join Karen on her journey with the likes of Augustine, Brother Lawrence, and Saint Francis, as well as Amanda Berry Smith, S ren Kierkegaard, Dorothy Day, Howard Thurman, Flannery O'Connor, and many more. Let their lives and their wisdom be an invitation to authentic life in Christ.
About the Author
---
Karen Wright Marsh is executive director and cofounder of Theological Horizons, a university ministry that has advanced theological scholarship at the intersection of faith, thought, and life since 1991. Karen directs daily programs, writes resources and curriculum, teaches weekly classes, mentors students, leads the staff, and speaks at retreats, churches, and campus ministries. She holds degrees in philosophy and linguistics from Wheaton College and the University of Virginia. Karen lives in Charlottesville, Virginia, with her husband, Charles Marsh.