Operational Updates
Click HERE for the most updated hours, customer guidelines and updates to store policy.
The Moonsteel Crown (Paperback)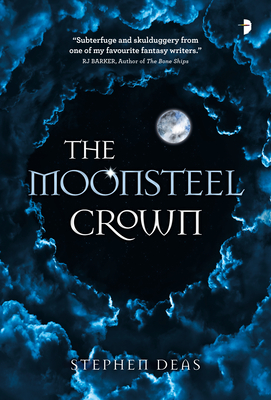 $14.99
Usually Ships in 1-5 Days
Description
---
The Emperor of Aria is dead, and three junior members of a street gang are unwittingly caught up in the ensuing struggle for the throne, in the first epic adventure in a new fantasy world from a master of the genre.

The Emperor of Aria has been murdered, the Empire is in crisis, and Dead Men walk the streets...

But Myla, Fings, and Seth couldn't care less. They're too busy just trying to survive in the Sulk-struck city of Varr, committing petty violence and pettier crimes to earn their keep in the Unrulys, a motley gang led by Blackhand.

When the Unrulys are commissioned to steal a mysterious item to order, by an equally mysterious patron, the trio are thrust right into the bitter heart of a struggle for the Crown, where every faction is after what they have.

Forced to lie low in a city on lockdown, they will have to work together if they want to save their skins... and maybe just save the Empire as well.

File Under: Fantasy [ Sword-Monks | Chicken Foot | Dead Men Walking | Murdering Bastard ]
About the Author
---
Stephen Deas, born in 1968 in Southeast England, is an English fantasy author. He is most famous for his fantasy opus, the Memory of Flames sequence, set in a fantasy world inhabited by dragons.
Praise For…
---
"Subterfuge and skulduggery from one of my favourite fantasy writers."
– RJ Barker, author of  The Bone Ships

"Wit, humor, and a percolating sense of enchantment are signatures of a Stephen Deas novel, and this is Deas at the top of his game."
– Robert V.S. Redick, author of Master Assassins and The Red Wolf Conspiracy

"Three unlikely characters land in the midst of political intrigue in this fun fantasy from Deas."
– Publishers Weekly

"Deas's prose is witty, occasionally almost Pratchett-like...there's something vital and dangerous going on in the world, but our fun comes from the petty tragedies of three downtrodden rogues."
– SFX

"Readers who like their high fantasy laced with revenge and political intrigue will find this tale of interest."
– Booklist

"It's a fun and entertaining debut that will appeal to fans of both classic and contemporary fantasy." – Fantasy Book Critic

"The book is an entertaining mix of Pern and Westeros, with the knowing characterisation of Abercrombie and the endearment of Novik."
– SFF World

"This dark and gritty fantasy is recommended for readers wanting the scope of an epic with the grittiness of grimdark urban fantasy. It will be loved by those who are looking for stories that exhibit all the darkness at the heart of "Game of Thrones" set in the mean streets of the grittiest of fantasy cities, and/or those who like antihero protagonists stuck in a morally gray area."
– Library Journal

"A cracking read - fun, frenetic and full of great characters...Roll on book 2!"
– Tom Lloyd, author of Stranger of Tempest

"A big, rich world, with a plot full of surprises and characters that will linger long after you finish." 
– Joshua Philip Johnson, author of The Forever Sea