All We Know of Pleasure: Poetic Erotica by Women (Paperback)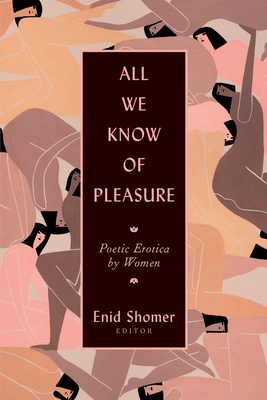 $17.95

Likely On Our Shelves Now
Description
---
Here is the good stuff: poetry written by women that actually excites the thinking reader. This anthology, spanning work of the last 75 years, will broaden its readers' notions of what defines erotic poetry. For what is more intriguing, more satisfying than strong, self-assured writing?
This groundbreaking anthology includes some of our most powerful women writers--among them Sharon Olds, Elizabeth Alexander, Anne Sexton, Dorianne Laux, Denise Levertov, Adrienne Rich, Lucille Clifton, and Louise Gl ck. These poets fully demonstrate that, far from being prurient, the erotic can permeate even the most mundane aspects of life, from reading a book to buying clothes.
At the same time, the collection affirms the enormous meaningfulness of poetry--its ability to express the inexpressible and to illuminate the most private and intimate of human experiences. The poets included here represent different ethnicities, geographies, social classes, and sexual preferences. The only characteristic they share is that they are women writing about sex.
About the Author
---
Enid Shomer, Anthology Editor Poet and fiction writer Enid Shomer is the author of four books of poetry and three of fiction, most recently the novel The Twelve Rooms of the Nile (Simon & Schuster, 2012). Her work has been collected in more than fifty anthologies and textbooks, including POETRY: A Harper Collins Pocket Anthology, Best American Poetry, and New Stories from the South. Two of her books, Stars at Noon (poetry) and Imaginary Men (short fiction), were the subject of feature interviews on NPR's Morning Edition and All Things Considered. In 2013, she received the Lifetime Achievement Award in Writing from the Florida Humanities Council.