Operation Crossroads - Lest We Forget!: An Eyewitness Account, Bikini Atomic Bomb Tests 1946 (Paperback)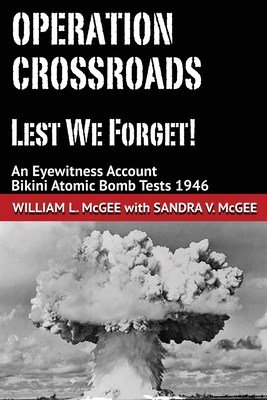 $19.95
Backordered or Out of Print
Description
---
"A sobering, but entertaining read." -Mark Barnes, War History Online A Publishers Weekly BookLife selection for the November 2020 Spotlight 2021 Marks the 75th Anniversary of the Bikini Atomic Bomb Tests in 1946 "On 1 July 1946 by the Bikini calendar (30 June in New York), millions of people around the world waited anxiously by their radios for the results of Test Able. No one knew what to expect," writes William L. McGee in his naval memoir, Operation Crossroads, Lest We Forget An Eyewitness Account, Bikini Atomic Bomb Tests 1946 In the summer of 1946, McGee was one of the 42,000 military, scientists, and civilian personnel assembled at the remote Bikini Atoll in the Marshall Islands. The objective: to conduct postwar testing of the atomic bomb on wartime vessels, equipment, and animals. Code name: Operation CROSSROADS. In August 1945, the Allied forces dropped two atomic bombs on Japan: one, on 6 August on Hiroshima; the other, on 9 August on Nagasaki. The Japanese surrendered on 14 August and World War II ended. Now the U.S. military wanted to conduct tests of the atomic bomb specifically on wartime vessels. In the words of Vice Admiral W. H. P. Blandy, USN, Commander of Joint Task Force One for Operation Crossroads: "In the face of this new knowledge, these recently discovered truths concerning the atom, so suddenly thrust upon an already chaotic world, not only warfare but civilization itself literally stands at the Crossroads. Hence the name of this Operation." Bill McGee had a front row seat from aboard the USS Fall River (CA-131), Flagship for the Target Fleet. The relatively new heavy cruiser was responsible for positioning 90-plus target vessels in the Bikini Lagoon for two atomic tests: Test Able from the air on 1 July and Test Baker from underwater on 25 July. In his signature journalistic writing style, McGee bottomlines his eyewitness account in a slim memoir (134 pp): -The Fall River's four-month voyage from Norfolk, Virginia to the Bikini Atoll
-The plans and preparations for Tests Able and Baker
-The Queen Day and William Day rehearsals for the two tests
-Reproductions of the Fall River ship log
-Interview excerpts with Fall River shipmates and other Crossroads participants
-The early opinions of the media and military
-The later opinions of Crosswords experts, who address the deadly effects of ionizing radiation
-The fate of the USS Fall River (CA-131) after Crossroads Foreword by F. Lincoln Grahlfs, Ph.D., author of "Voices From Ground Zero
134 pp, 52 b/w photographs & illustrations.
About the Author
---
About the Authors: William L. McGee has garnered critical praise for his World War II military histories including his memoir within a history, "Bluejacket Odyssey, 1942-1946: Guadalcanal to Bikini," and the acclaimed Pacific war trilogy, "Amphibious Operations in the South Pacific in WWII." The author welcomes reader comments on his website at WilliamMcGeeBooks.com. Sandra V. McGee has co-authored eight books with her husband.