Operational Updates
Click HERE for the most updated hours, customer guidelines and updates to store policy.
Blood Magic (Paperback)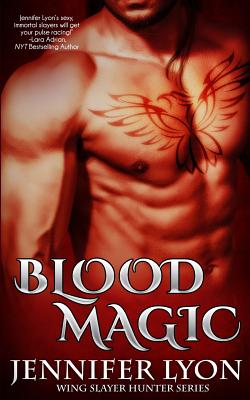 $14.99
Usually Ships in 1-5 Days
Description
---
A dangerous curse... Axel Locke is the sinfully sexy leader of the Wing Slayer Hunters-a group of supernatural witch hunters who have vowed to never give into the curse driving them to slaughter innocent witches. But when his little sister is death-cursed by a demon witch, Axel will stop at nothing to save her. He rescues a beautiful witch from a killer, intending to force her to magically cure his sister. The only problem? She has no idea what she is. A deadly passion... Darcy McAllister grew up knowing she was different, but she never imagined she's a witch. With the life of a child at stake, she agrees to work with the hot, compelling hunter to gain control over her newfound powers. But an irresistible attraction crackles between them, creating a dangerous dilemma-can Darcy trust the man hexed to crave her blood to satisfy her aching desire? Will their forbidden love destroy them? As Darcy and Axel race against the clock, their explosive passion deepens to a fiery love. But when Darcy attempts to heal his sister makes her a target for a demon's revenge, Axel will sacrifice anything, including his immortal soul, to save her.
About the Author
---
Jennifer Lyon is the pseudonym for USA Today Bestselling Author Jennifer Apodaca. Jen lives in Southern California where she continually plots ways to convince her husband that they should get a dog. After all, they met at the dog pound, fell in love, married and had three wonderful sons. So far, however, she has failed in her doggy endeavor. She consoles herself by pouring her passion into writing books. To date, Jen has published more than fifteen books and novellas, including a fun and sexy mystery series and a variety of contemporary romances under the name Jennifer Apodaca. As Jennifer Lyon she created a dark, sizzling paranormal series, and The Plus Once Chronicles, an emotionally sensual adult contemporary series. Jen's won numerous awards and had her books translated into multiple languages, but she still hasn't come up with a way to persuade her husband that they need a dog.