Where Petals Fall (Paperback)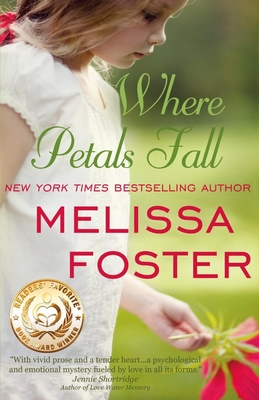 $15.99

NOT ON OUR SHELVES- available for order, usually ships in 1-5 days
Description
---
**BONUS** Includes the first two chapters (sneak peek) of New York Times & USA Today bestselling historical fiction novel, HAVE NO SHAME.
***WHERE PETALS FALLS is a GOLD MEDAL WINNER in the Readers' Favorite Award, Realistic Fiction category & FINALIST in two categories, Fiction Suspense and Fiction Drama***
Melissa Foster has expertly penned this emotional story of the layers that make up human relationships...The way in which Melissa Foster weaves in the story of Ellen's disappearance is done perfectly, particularly in showing just how much one little girl's absence impacts so many people's lives today. Between the secrets, hidden emotions, lies and the mystery, Foster doesn't judge or preach but rather presents problems and forces us all to reach our own answers to these moral dilemmas." -- Readers' Favorite
"With vivid prose and a tender heart, Melissa Foster has crafted a psychological and emotional mystery fueled by love in all its forms." -- Jennie Shortridge, Author of Love Water Memory
"Foster expertly captured the lifeblood of the human condition.." -- The Book Stalker
On the surface Junie Olson's life looks idyllic, from her handsome husband and beautiful daughter to her successful business, the bakery she'd always dreamed of opening. But in the past few months her world has slowly unraveled. Her precocious child is withdrawing, showing unexplainable signs of emotional regression, a condition that frays the bonds of Junie's once impenetrable marriage. When her father dies suddenly of a heart attack, Junie packs up her daughter and goes home to help her mother. Her homecoming stirs up memories of the nightmare she thought she had put behind her, the disappearance of her childhood friend, Ellen. Haunted by recurring memories of what happened on that fateful day, Junie must gather the courage to revisit her past and untangle the secrets surrounding her missing friend, and the trauma that has caused her little girl to climb back into herself. As the pieces come together on the event that shook her small town, and at the risk of losing everyone she loves, Junie will question everything she thought she could rely on and everyone she thought she knew.
WHERE PETALS FALL is a gripping and emotional novel with an undercurrent of suspense, featuring a determined mother whose world slowly comes apart around her. Readers will root for Junie as they follow her transition into an indomitable heroine who must reconcile what she discovers about her husband and family's tragic past, and find a way to put the pieces of her family back together and carry on.