The Taking of K-129: How the CIA Used Howard Hughes to Steal a Russian Sub in the Most Daring Covert Operation in History (Paperback)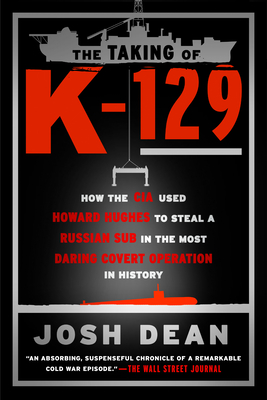 $18.00
Backordered or Out of Print
Description
---
An incredible true tale of espionage and engineering set at the height of the Cold War--a mix between The Hunt for Red October and Argo--about how the CIA, the U.S. Navy, and America's most eccentric mogul spent six years and nearly a billion dollars to steal the nuclear-armed Soviet submarine K-129 after it had sunk to the bottom of the Pacific Ocean; all while the Russians were watching.

In the early hours of February 25, 1968, a Russian submarine armed with three nuclear ballistic missiles set sail from its base in Siberia on a routine combat patrol to Hawaii. Then it vanished.

As the Soviet Navy searched in vain for the lost vessel, a small, highly classified American operation using sophisticated deep-sea spy equipment found it--wrecked on the sea floor at a depth of 16,800 feet, far beyond the capabilities of any salvage that existed. But the potential intelligence assets onboard the ship--the nuclear warheads, battle orders, and cryptological machines--justified going to extreme lengths to find a way to raise the submarine.

So began Project Azorian, a top secret mission that took six years, cost an estimated $800 million, and would become the largest and most daring covert operation in CIA history.

After the U.S. Navy declared retrieving the sub "impossible," the mission fell to the CIA's burgeoning Directorate of Science and Technology, the little-known division responsible for the legendary U-2 and SR-71 Blackbird spy planes. Working with Global Marine Systems, the country's foremost maker of exotic, deep-sea drilling vessels, the CIA commissioned the most expensive ship ever built and told the world that it belonged to the reclusive billionaire Howard Hughes, who would use the mammoth ship to mine rare minerals from the ocean floor. In reality, a complex network of spies, scientists, and politicians attempted a project even crazier than Hughes's reputation: raising the sub directly under the watchful eyes of the Russians.
About the Author
---
Josh Dean is a correspondent for Outside; a regular contributor to many national magazines, including GQ, Bloomberg Businessweek, Fast Company, and Popular Science; and the author of Show Dog and The Life and Times of the Stopwatch Gang.
Praise For…
---
Praise for The Taking of K-129

"An absorbing, suspenseful chronicle of a remarkable Cold War episode."—The Wall Street Journal

"It's a complicated affair, but Dean relates it simply and completely. From undersea searches to maritime architecture to spy agency intrigue, the author excels at making complex operations understandable to the layman… The Taking of K-129 is a worthwhile addition to the shelves of military history buffs, nautical enthusiasts and anyone who enjoys a well-told story."—USA Today

"One of the most astonishing covert operations in U.S. history is detailed by author Josh Dean in his new book The Taking of K-129... a spy story on steroids."—New York Daily News

"The incredible true story of how the CIA—with help from Howard Hughes—stole a sunken Soviet nuclear submarine during the Cold War."—People

"Josh Dean takes readers on a fascinating—and optimistic—journey through this strange saga."—VICE.com

"The stellar research Dean uses to tell this captivating tale includes declassified primary documents, personal journals, and autobiographies...Recommended for fans of naval history, marine engineering, ocean mining, and spy stories."—Library Journal

"Outside magazine correspondent Dean ably resurrects the forgotten Cold War drama of Project Azorian...A well-researched, mostly engrossing geopolitical narrative of American ingenuity in the face of Russian threats."—Kirkus Reviews

"In a lively, you-are-there pace...Dean delivers an engaging rendition of the high-profile espionage effort."—Booklist

"An incredible true tale of espionage and engineering set at the height of the Cold War when the CIA, the US Navy, and America's most eccentric spent six years and nearly a billion dollars to steal the nuclear-armed Soviet submarine K-129..."—The Intelligencer

"Josh Dean has a gift for unearthing remarkable stories lost to history, and in The Taking of K-129 he has uncovered perhaps the most remarkable one of all—a story replete with spies and engineering marvels and a secret drama unfolding thousands of feet beneath the sea. Brilliantly researched and beautifully written, this is a book you can't put down."—David Grann, New York Times bestselling author of Killers of the Flower Moon

"From the depths of the Pacific and the depths of CIA covert operations comes an absorbing tale of daring engineers and shadowy espionage. A terrific read."—David E. Hoffman, New York Times bestselling author of The Billion Dollar Spy

"An engrossing account of shadowy intrigue, precision engineering and ultra-deception, The Taking of K-129 is a high-stakes espionage drama of operational boldness married with technical brilliance."—Robert Wallace, author of Spycraft: The Secret History of the CIA's Spytechs from Communism to al-Qaeda
 
"A riveting account of the American intelligence community. Told in fascinating detail, The Taking of K-129 is nonfiction at its best because with every page I had to remind myself this actually happened."—Kevin Maurer, co-author of the #1 New York Times bestseller No Easy Day

"As a former submariner and navy diver, I give Josh Dean an A+ for The Taking of K-129. This non-fiction account of one of the most dangerous and daring missions of the Cold War is well-researched and reads like a Tom Clancy thriller."—W. Craig Reed, New York Times bestselling author of Red November

"If you've been hungry for a submarine tale in the league of The Hunt For Red October, but subscribe to the belief that the truth is stranger than fiction, you'll devour The Taking of K-129, an epic befitting the top shelf of espionage and military reads. Prepare for impact—you won't be able to put this one down."—Eric Blehm, New York Times best-selling author of Fearless and The Only Thing Worth Dying For

"A fast-moving account of Project Azorian, CIA's covert operation to recover a sunken Soviet nuclear ballistic missile submarine from over three miles under the Pacific Ocean that was conducted in absolute secrecy - all under the watchful eyes of the Soviet Navy.  With the driving pace of a thriller, Dean's lively and detailed narrative draws on eye witness accounts and the latest materials released by the CIA itself.  Fascinating."—Peter Earnest, Founding Executive Director of the International Spy Museum and former Senior CIA Officer