The Suicide Motor Club (Hardcover)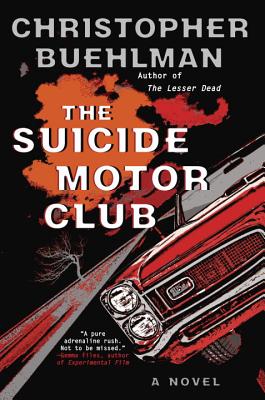 $26.00
Usually Ships in 1-5 Days
Description
---
"Rising horror star"* Christopher Buehlman, author of The Lesser Dead, returns with a chilling and thrilling tale of dark evil lurking on the lonely, open road...
 
Bram Stoker, quoting the ballad "Lenore," said, "The dead travel fast."
 
Those words have never rung more true...
 
Remember that car that passed you near midnight on Route 66, doing 105 with its lights off? You wondered where it was going so quickly on that dark, dusty stretch of road, motor roaring, the driver glancing out the window as he blew by.
 
Did his greedy eyes shine silver like a coyote's? Did he make you feel like prey?
 
You can't remember now.
 
You just saw the founder of the Suicide Motor Club. Be grateful his brake lights never flashed. Be grateful his car was already full.
 
They roam America, littering the highways with smashed cars and bled-out bodies, a gruesome reflection of the unsettled sixties. But to anyone unlucky enough to meet them in the lonely hours of the night, they're just a blurry memory.
 
That is—to all but one...
 
Two years ago, they left a witness in the mangled wreck of her family car, her husband dead, her son taken. She remembers their awful faces, despite their tricks and glamours. And she's coming for them—her thirst for vengeance even more powerful than their hunger for blood.
 
On the deserted highways of America, the hunters are about to become the hunted...
About the Author
---
Christopher Buehlman is the winner of the 2007 Bridport Prize for Poetry and the author of several plays and five novels: The Suicide Motor Club, The Lesser Dead (named the American Library Association's Best Horror Novel of the Year), The Necromancer's House, Between Two Fires, and Those Across the River (a World Fantasy Award nominee for best novel). He spends half the year in St. Petersburg, Florida, and the rest on the road.
Praise For…
---
Praise for Christopher Buehlman and His Novels
 
"Surprising, scary, and, ultimately, heartbreaking…I've read a number of good horror novels this year, but Buehlman leaves them all in the dust."—Tor.com
 
"One of the best first novels I've ever read."—Charlaine Harris, #1 New York Times bestselling author of the Midnight, Texas novels
 
"What a treat. As much F. Scott Fitzgerald as Dean Koontz. A graceful, horrific read."—Patricia Briggs, #1 New York Times bestselling author of the Mercy Thompson novels
 
"Beautifully written…with a cast of Southern characters so real you can almost see the sweat roll down the page."—Boston Herald
 
"A horror story that manages just the right balance between building dread and suspense and delivering action."—The A.V. Club
 
"Impossible to put down."—Suspense Magazine