Operational Updates
Click HERE for the most updated hours, customer guidelines and updates to store policy.
Some Like It Hawk (Hardcover)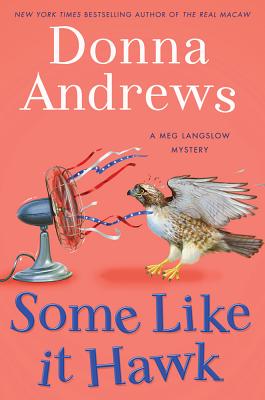 Description
---
Meg helps run Caerphilly's summer arts and crafts festival while trying to smoke out a murderer turn up the heat, because Some Like it Hawk
The hilariously funny Donna Andrews delivers another winner in the award-winning New York Times bestselling series that has captured human and avian hearts alike. Meg Langslow is plying her blacksmith's trade at "Caerphilly Days," a festival inspired by her town's sudden notoriety as "The Town That Mortgaged Its Jail." The lender has foreclosed on all Caerphilly's public buildings, and all employees have evacuated except one. Phineas Throckmorton, the town clerk, has been barricaded in the courthouse basement for over a year.
Mr. Throckmorton's long siege has only been possible because of a pre-Civil War tunnel leading from the courthouse basement to a crawl space beneath the bandstand. The real reason for Caerphilly Days is to conceal the existence of the tunnel: the tourist crowds camouflage supply deliveries, and the ghastly screeching of the tunnel's rusty trap door is drowned out by as many noisy activities as the locals can arrange. But the lender seems increasingly determined to evict Mr. Throckmorton and may succeed after one of its executives is found shot, apparently from inside the basement. Meg and her fellow townspeople suspect that someone hopes to end the siege by framing Mr. Throckmorton. Unless the real killer can be found quickly, the town will have to reveal the secret of the tunnel and the fact that they've been aiding and abetting the basement's inhabitant. Meg soon deduces that the killer isn't just trying to end the siege but to conceal information that would help the town reclaim its buildings--if the townspeople can find it before the lender destroys it in a gut-busting caper that will have giggles and guffaws coming as fast as a four-alarm fire.
A gaggle of praise for Donna Andrews and the Meg Langslow Mystery Series:
"If you long for more fun mysteries, a la Janet Evanovich, you'll love Donna Andrews's Meg Langslow series." Charlotte Observer
"A long-running series that gets better all the time. A fine blend of academic satire, screwball comedy, and murder." Booklist
"As always, Andrews laces this entertaining whodunit with wit, a fine storyline and characters we've come to know and love." Richmond Times-Dispatch on The Real Macaw.
About the Author
---
DONNA ANDREWS is a winner of the Agatha, Anthony, and Barry Awards, a Romantic Times Award for best first novel, and three Lefty and two Toby Bromberg awards for funniest mystery. She spends her free time gardening at her home in Reston, Virginia.
Praise For…
---
Praise for Some Like it Hawk
"Donna Andrews is known for combining wicked crimes with witty storytelling, and her latest novel featuring blacksmith Meg Langslow, Some Like It Hawk, lives up to its 13 predecessors…. An exercise in homicide and humor, "Some Like It Hot" will prey on the reader's little gray cells and funny bone alike." –Richmond Times-Dispatch
"A satisfactory whodunit with plenty of wrong turns and red herrings… Just the cool tonic for a hot summer afternoon." –Star News (Wilmington, NC)
"Warm, charming."
—Publishers Weekly
"Engaging."
—Booklist
"…comic inspiration… fun."
—Kirkus Reviews
"Humorous…"
--Library Journal
"The latest Meg Langslow Mysteries is a great tale that satirizes the financial industry as a bunch of predatory hawks who will do anything for another golf course. Filled with eccentric characters, fans will relish this jocular whodunit." -- http://themysterygazette.blogspot.com
A gaggle of praise for Donna Andrews and the Meg Langslow Mystery Series:
 "If you long for more fun mysteries, a la Janet Evanovich, you'll love Donna Andrews's Meg Langslow series." —Charlotte Observer
"A long-running series that gets better all the time. A fine blend of academic satire, screwball comedy, and murder." —Booklist
"As always, Andrews laces this entertaining whodunit with wit, a fine storyline and characters we've come to know and love." --Richmond Times-Dispatch on The Real Macaw
"With colorful characters, a solid mystery and laugh-out-loud moments. . . readers will have a rollicking good time with the new Meg Langslow mystey." —RT BookReviews (4 stars) on Swan for the Money
"Andrews' eighth Meg-centric mystery moves along like the best beach reads." —Entertainment Weekly on The Penguin Who Knew Too Much
"Deliciously daffy. . . Andrews demonstrates her absolute mastery of the comedic mystery, deftly balancing outrageously funny scenes with well-paced suspense." —Publishers Weekly (starred review) on The Penguin Who Knew Too Much