Operational Updates
Click HERE for the most updated hours, customer guidelines and updates to store policy.
The Hen of the Baskervilles: A Meg Langslow Mystery (Meg Langslow Mysteries #15) (Mass Market)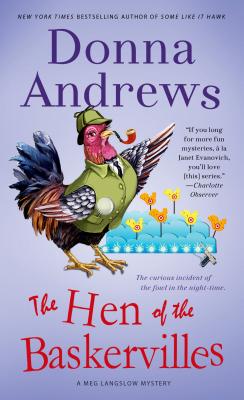 Other Books in Series
This is book number 15 in the Meg Langslow Mysteries series.
Description
---
Fight or flight…

Meg Langslow is helping Mayor Randall Shiffley organize the Virginia Un-Fair, Caerphilly's entry in the race to replace the old, bankrupted state fair. Before a line can even form outside the ticket booth, however, a pair of Bantam Russian Orloff chickens are stolen from their coop in the chicken tent. Soon, a rash of vandalism crops up at the fair, showing no heritage farm animal, prize vegetable, or artisanal craft to be safe.

"Diverting…Enjoyable."—Publishers Weekly
As if patrolling the fairgrounds for the perp weren't enough, Meg runs into her cheesemonger friend Molly, who has another pressing matter: Her husband, Brett, has taken up with another woman and is now demanding half of their farm. But before Meg can find her the best divorce lawyer in the land, Brett turns up dead—and Molly becomes the prime suspect. When it comes to Meg's crime-solving in Caerphilly, nothing is ever elementary… in Donna Andrews' The Hen of the Baskervilles.
"The 15th novel in this bird-themed popular cozy mystery series offers more fine-feathered foibles to chuckle over."—RT Book Reviews
About the Author
---
Donna Andrews is the author of the Meg Langslow mysteries, including Stork Raving Mad and Swan for the Money. She has won the Agatha, Anthony, and Barry awards, a Romantic Times award for best first novel, and four Lefty and two Toby Bromberg Awards for funniest mystery. When not writing fiction, Andrews is a self-confessed nerd, rarely found away from her computer, unless she's messing in the garden. She lives in Reston, Virginia.
Praise For…
---
"The 15th novel in this bird-themed popular cozy mystery series offers more fine-feathered foibles to chuckle over. Andrews' ever-present humor and detailed animal lore will be familiar pleasures, and the grounded and endearing heroine offers the perfect balance to the silly shenanigans in this neatly plotted potboiler." —RT Book Reviews on HEN OF THE BASKERVILLES

"Diverting…Enjoyable." —Publishers Weekly on HEN OF THE BASKERVILLES

"Uproarious." —Criminal Element on SOME LIKE IT HAWK

"[This] series gets better all the time." —Booklist on SOME LIKE IT HAWK

"As always, Andrews laces this entertaining whodunit with wit, a fine storyline, and characters we've come to know and love." —Richmond Times-Dispatch on THE REAL MACAW

"Meg grows more endearing with each book, and her fans will enjoy seeing her take to motherhood." —Richmond Times-Dispatch on STORK RAVING MAD

"As usual in this hilarious series…a good time is guaranteed for everyone except Meg." —Kirkus Reviews

"Andrews always leavens the mayhem with laughs." —Richmond Times-Dispatch on SWAN FOR THE MONEY

"The Meg Langslow series just keeps getting better. Lots of cozy writers use punny titles, but Andrews backs them up with consistently hilarious story lines." —Booklist on SWAN FOR THE MONEY

"Fans will enjoy [this] entry in Andrews's fine-feathered series." —Publishers Weekly on SIX GEESE A-SLAYING

"Fans of comic cozies who have never read Andrews' Meg Langslow mysteries have a real treat in store.…Lots of silly but infectious humor and just enough mystery." —Booklist on SIX GEESE A-SLAYING

"Suspense, laughter and a whole passel of good clean fun." —Publishers Weekly on COCKATIELS AT SEVEN

"More fun than seven cocktails--and a lot safer, too." —Richmond Times-Dispatch on COCKATIELS AT SEVEN

"The plot, in true 'You Can't Take It With You' fashion, involves plenty of snakes, as well as the titular cockatiels and assorted exotic birds. The author has a fine sense of pacing and a droll...sense of humor. This is character-driven fiction, and Andrews maintains the action within the confines and sensibilities of her town-and-gown setting." —The State (Columbia, SC) on COCKATIELS AT SEVEN

"Deliciously daffy." —Publishers Weekly (starred review) on THE PENGUIN WHO KNEW TOO MUCH

"Andrews always leavens the mayhem with laughs. So march yourself down to the bookstore or library and check out The Penguin Who Knew Too Much." —Richmond Times-Dispatch (Virginia) on THE PENGUIN WHO KNEW TOO MUCH

"Andrews' eighth Meg-centric mystery moves along like the best beach reads." —Entertainment Weekly on THE PENGUIN WHO KNEW TOO MUCH

"The levelheaded, unflappable Meg takes it all in stride…This eighth cozy in the series makes the most of humorous situations, zany relatives, and lovable characters." —Booklist on THE PENGUIN WHO KNEW TOO MUCH

"A classic whodunit…wraps suspense, humor, and a screwball cast of characters into a mystery novel with stand-up quality." —About.com on THE PENGUIN WHO KNEW TOO MUCH

"Always a treat." —Romantic Times BOOKreviews on THE PENGUIN WHO KNEW TOO MUCH

"Andrews has mastered the art of writing farce with style and wit." —Mystery Scene on THE PENGUIN WHO KNEW TOO MUCH

"Fun, lively, charming." —Publishers Weekly on NO NEST FOR THE WICKET

"Andrews strikes just the right balance between comedy and suspense to keep the reader laughing and on the edge of one's seat...Fans of this series will no doubt enjoy this installment, while new readers...will be headed to the bookstore for the earlier books." —Romantic Times BOOKreviews (4 stars) on NO NEST FOR THE WICKET

"Any day when I start reading about Meg is cause for delight. Ending the book makes me yearn for more than one per year. Hint." —Deadly Pleasures on NO NEST FOR THE WICKET

"As usual, Andrews is a reliable source for those who like their murder with plenty of mayhem." —Kirkus Reviews on NO NEST FOR THE WICKET

"Andrews's talent for the lovably loony makes this series a winner; to miss it would be a cardinal sin." —Richmond Times-Dispatch on NO NEST FOR THE WICKET

"A loony, utterly delightful affair." —Booklist on OWLS WELL THAT ENDS WELL

"It's a hoot...a supporting cast of endearingly eccentric characters, perfectly pitched dialogue and a fine sense of humor make this a treat." —Publishers Weekly on OWLS WELL THAT ENDS WELL

"Death by yard sale epitomizes the 'everyday people' humor that Andrews does so well…for readers who prefer their mysteries light...Andrews may be the next best thing to Janet Evanovich." —Rocky Mountain News on OWLS WELL THAT ENDS WELL

"Andrews delivers another wonderfully comic story....This is a fun read, as are all the books in the series. Andrews playfully creates laughable, wacky scenes that are the backdrop for her criminally devious plot. Settle back, dear reader and enjoy another visit to Meg's anything-but-ordinary world." —Romantic Times (starred review) on OWLS WELL THAT ENDS WELL

"Laughter, more laughter, we need laughter, so Donna Andrews is giving us We'll Always Have Parrots...to help us survive February." —Washington Times on WE'LL ALWAYS HAVE PARROTS

"Perfectly showcases Donna Andrews' gift for deadpan comedy." —Denver Post on WE'LL ALWAYS HAVE PARROTS

"Always heavy on the humor, Andrews' most recent Meg Langslow outing is her most over-the-top adventure to date." —Booklist on WE'LL ALWAYS HAVE PARROTS

"I can't say enough good things about this series, and this entry in it." —Deadly Pleasures on WE'LL ALWAYS HAVE PARROTS

"Hilarious...another winner...keeps you turning pages." —Mystery Lovers News on WE'LL ALWAYS HAVE PARROTS

"If you long for more 'fun' mysteries, à la Janet Evanovich, you'll love Donna Andrews's Meg Langslow series." —The Charlotte Observer on CROUCHING BUZZARD, LEAPING LOON

"There's a smile on every page and at least one chuckle per chapter." —Publishers Weekly on CROUCHING BUZZARD, LEAPING LOON

"This may be the funniest installment of Andrews' wonderfully wacky series yet. It takes a deft hand to make slapstick or physical comedy appealing, yet Andrews masterfully manages it (the climax will have you in stitches.)" —Romantic Times on CROUCHING BUZZARD, LEAPING LOON

"At the top of the list ... a fearless protagonist, remarkable supporting characters, lively action, and a keen wit." —Library Journal on REVENGE OF THE WROUGHT-IRON FLAMINGOS

"What a lighthearted gem of a juggling act ... with her trademark witty dialogue and fine sense of the ridiculous, Andrews keeps all her balls in the air with skill and verve." —Publishers Weekly on REVENGE OF THE WROUGHT-IRON FLAMINGOS

"Genuinely fascinating. A better-than-average entry in a consistently entertaining…series." —Booklist on REVENGE OF THE WROUGHT-IRON FLAMINGOS

"Muddy trails, old secrets, and plenty of homespun humor." —St. Petersburg Times on MURDER WITH PUFFINS

"The well-realized island atmosphere, the puffin lore, and the ubiquitous birders only add to the fun." —Denver Post on MURDER WITH PUFFINS

"Another hit for Andrews ... entertaining and filled with fun characters." —Daily Press [Newport, Virginia] on MURDER WITH PUFFINS

"Andrews's tale of two puffins has much to recommend it, and will leave readers cawing for another adventure featuring the appealing Meg and Michael." —Publishers Weekly on MURDER WITH PUFFINS

"The puffin angle proves very amusing ... an enjoyable flight of fancy." —Booklist on MURDER WITH PUFFINS

"The first novel is so clever, funny, and original that lots of wannabe authors will throw up their hands in envy and get jobs in a coffee shop." —Contra Costa Times on MURDER WITH PEACOCKS

"Loquacious dialogue, persistent humor...a fun, breezy read." —Library Journal on MURDER WITH PEACOCKS

"Half Jane Austen, half battery acid...will leave you helpless with heartless laughter ... Andrews combines murder and madcap hilarity with a cast of eccentric oddballs in a small Southern town." —Kirkus Reviews on MURDER WITH PEACOCKS

"Andrews's debut provides plenty of laughs for readers who like their mysteries on the cozy side." —Publishers Weekly on MURDER WITH PEACOCKS