The Girl in the Green Sweater: A Life in Holocaust's Shadow (Paperback)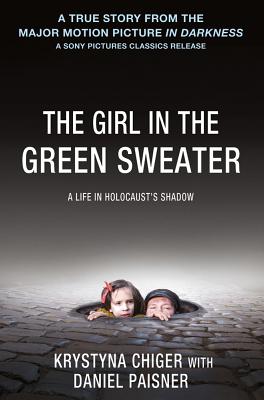 $17.99
Backordered or Out of Print
Description
---
True story from the major motion picture "In Darkness," official 2012 Academy Award nominee for Best Foreign Language Film.

In 1943, with Lvov's 150,000 Jews having been exiled, killed, or forced into ghettos and facing extermination, a group of Polish Jews daringly sought refuge in the city's sewer system. The last surviving member this group, Krystyna Chiger, shares one of the most intimate, harrowing and ultimately triumphant tales of survival to emerge from the Holocaust. Originally published as The Girl in the Green Sweater, In Darkness is Chiger's harrowing first-person account of the fourteen months she spent with her family in the fetid, underground sewers of Lvov.

In Darkness is also the story of Leopold Socha, the group's unlikely savior. A Polish Catholic and former thief, Socha risked his life to help Chiger's underground family survive, bringing them food, medicine, and supplies. A moving memoir of a desperate escape and life under unimaginable circumstances, In Darkness is ultimately a tale of intimate survival, friendship, and redemption.
About the Author
---
KRYSTYNA CHIGER survived the Holocaust by hiding with her family in the sewers of Lvov, Poland for 14 months. A retired dentist, she lives in Long Island.

DANIEL PAISNER is the author or co-author of more than sixty books, including sixteen New York Times bestsellers. As a ghostwriter, he has collaborated with such leading personalities as tennis great Serena Williams; football legend Ray Lewis; two-term Ohio governor John Kasich; Academy Award-winning actors Denzel Washington, Whoopi Goldberg and Anthony Quinn; and, former world-champion longboard surfer Izzy Paskowitz. He is the winner of two NAACP Image Awards for his work with Shark Tank panelist and serial entrepreneur Daymond John. His novel A Single Happened Thing was named an Indies Finalist as best book of the year (literary fiction) by the editors of Foreword Reviews, and his previous novel, Mourning Wood, and a non-fiction account of the aftermath of the historic home run race of 1998—The Ball: Mark McGwire's 70th Home Run Ball and the Marketing of the American Dream—both long out of print, were reissued in new digital and paperback editions.
Praise For…
---
"Despite the substantial number of Holocaust memoirs that have been published, The Girl in the Green Sweater manages to touch us in an unexpected way, revealing highs and lows in man's capacity for evil, as well his capacity to love life and other human beings. Through the eyes of the child that Krystyna Chiger was in Lvov, Poland in 1939 we see the whole moral universe." —Naomi Ragen, author of The Saturday Wife and The Covenant

"[A] gripping memoir. . . Captures both tragic events and beautiful images that continue to haunt the author after more than 60 years." —Kirkus

"Told from a precocious child's point of view. . . Chiger's seven-year-old cypher possesses a self-awareness that springs from her inner and outer turmoil, capturing well the despair and terror of a life in hiding. With a powerful story and a keen voice, Chiger's Holocaust survivor's tale is a worthy and memorable addition to the canon." —Publishers Weekly

"An important addition to Holocaust literature that vividly describes a harrowing childhood faced with enormous strength and courage." —Michael Bart, author of Until Our Last Breath: A Holocaust Story of Love and Partisan Resistance