Savage Chains (Mass Market Paperbound)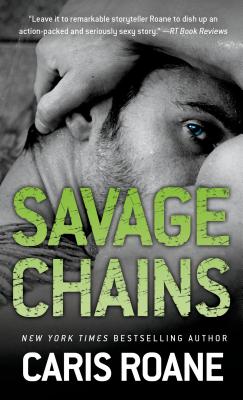 Description
---
A VAMPIRE UNDERCOVER
His name is Reyes. His mission is simple; his methods, extreme. He is hellbent on infiltrating--and destroying--a notorious sex-slave ring in the dangerous world of vampire clubs.

A WOMAN UNCHAINED
Her name is Angelica. Her beauty is incomparable; her body, for sale. She is the prize attraction in a human slave auction, and Reyes is prepared to pay any price to buy her--then free her.
A PASSION UNLEASHED
Disguised as a slaver, Reyes strikes a devil's bargain to purchase the one woman who has stolen his heart. Angelica feels an irresistible erotic connection to this gorgeous, powerful vampire--but can she trust a man who trafficks in human flesh, even if his hungry gaze ignites her darkest desires? Reyes wants to prove she is more than a slave to him--but can he break the savage chains of destiny that bind his love-scarred soul forever?
About the Author
---
Caris Roane is the New York Times bestselling author of the Guardians of Ascension series and the Men in Chains series, both featuring powerful vampires and the women who love them. Caris lives in the Phoenix area of the Sonoran Desert, really doesn't like scorpions, and in her spare time tries to stay off Facebook.