One Evening in Paris: A Novel (Paperback)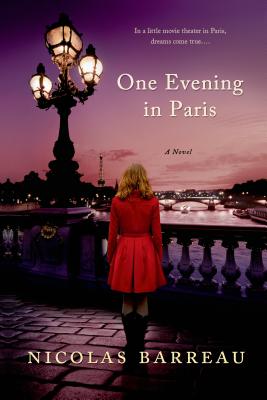 $14.99
Usually Ships in 1-5 Days
Description
---
Alain Bonnard, the owner of a small art cinema in Paris, is a dyed-in-the-wool nostalgic. In his Cinéma Paradis there are no buckets of popcorn, no XXL coca-colas, no Hollywood blockbusters. Not a good business plan if you want to survive, but Alain holds firm to his principles of quality. He wants to show films that create dreams, and he likes most of the people that come to his cinema. Particularly the enchanting, shy woman in the red coat who turns up every Wednesday in row 17. What could her story be? One evening, Alain plucks up courage and invites the unknown beauty to dinner. The most tender of love stories is just getting under way when something incredible happens: The Cinéma Paradis is going to be the location of Allan Woods' new film Tender Memories of Paris. Solène Avril, the famous American director's favourite actress, has known the cinema since childhood and has got it into her head that she wants the film to be shot there. Alain is totally overwhelmed when he meets her in person. Suddenly, the little cinema and its owner are the focus of public attention, and the red-plush seats are sold out every evening.
But the mystery woman Alain has just fallen in love with seems suddenly to have vanished. Is this just coincidence? In One Evening in Paris by Nicolas Barreau, Alain sets off in search of her and becomes part of a story more delightful than anything the cinema has to offer.
About the Author
---
NICOLAS BARREAU was born in Paris, the son of a French father and a German mother. He studied romance languages and literature at the Sorbonne and worked in a bookshop on the Rive Gauche in Paris but is far from an inexperienced bookworm. With his two other successful novels The Woman of My Life and You'll Find Me at the End of the World, he has gained an enthusiastic audience. The Ingredients of Love is his second novel.
Praise For…
---
"Barreau has written an enchanting story of love lost and found in the world's most romantic city.With charming characters, a beautiful location, and perfect pacing, Barreau's latest is part romance, part mystery, part travelogue, and a satisfyingly good read." —Booklist
"Nicolas Barreau takes one evening and magnifies it from every angle to create a stellar memory as well as an outstanding novel." —Night Owl Reviews
"The twists and turns in the novel leave the reader frantically turning the pages. This book is a perfect read for anyone who appreciates classic cinema, a good mystery, and a love story set in Paris." —Fresh Fiction
"As romantic as Woody Allen's Midnight in Paris. Rarely has the French metropolis been described in more poetic terms." —Freundin
"In every publishing season there is really only one love story that touches me deeply. One Evening in Paris is my absolute emotional highlight." —Gala
"A love letter to the movies. A wonderful gift, a magical book." —SAT 1
"Those readers who are unable to discover their romantic side through Nicolas Barreau's dream-like, beautiful book, probably don't have one." —taz
"A book to warm your heart..." —Rheinische Post