Operational Updates
Click HERE for the most updated hours, customer guidelines and updates to store policy.
Love in the Time of Global Warming (Paperback)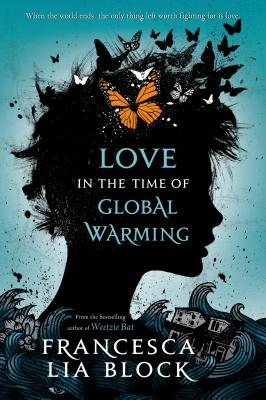 $11.99
Email or call for price
Description
---
From the bestselling author of Weetzie Bat comes a stunning reimagining of Homer's Odyssey, exploring love, queerness, and the devastation of the environment, set in post-apocalyptic Los Angeles.

"Block's trademark magical realism works. . . . There's something encouraging about seeing four queer kids on an epic journey across the post-apocalyptic American Southwest." —Kirkus Reviews

After the Earth Shaker, which all but destroyed Los Angeles, seventeen-year-old Penelope (Pen) sets out into the wasteland in search of her family, her journey guided by a tattered copy of Homer's Odyssey. Soon she begins to realize her own abilities and strength as she faces false promises of safety, the cloned giants who feast on humans, and a madman who wishes her dead. On her voyage, Pen learns to tell stories that reflect her strange visions, while she and her fellow surivors navigate the dangers that lie in wait.

In her signature lyrical style, Francesca Lia Block has created a world that is beautiful in its destruction and as frightening as it is lovely. Love in the Time of Global Warming has shades of science fiction, fantasy, eco-fiction, and dystopic disaster.

Praise for Love in the Time of Global Warming:

A Top Ten ALA Rainbow Project Book

"[A] compelling apocalyptic survival story with four LGBTQ teens." —Common Sense Media

"Francesca Lia Block is the imaginative bestselling author of Weetzie Bat; she brings a radiant, illuminating world of death, destruction and adventure in her novel Love in the Time of Global Warming. . . . Block will make you see, smell, hear, taste and feel Pen's story, and she will surely wisk you away into an inspiring, fantastical, Dali-esque dream world that you will never forget." —Teenreads

"Francesca Lia Block has made a trademark of twining myth and reality so snugly it's difficult to figure out where one ends and the other begins. . . . This is a fine adventure story. . . . You'll be thinking about it for days afterward." —Bookpage

"Told in Block's distinctive whimsical style, Love in the Time of Global Warming stands out as a uniquely poignant allegory of self-acceptance. . . . The camaraderie between these four queer teens searching for a home together amid the rubble is palpable." —TOR.com

"This a beautiful book. . . . [Perfect] for teens that have grown out of fairytale books but would still like to escape the real world, and also for queer teens, because they may be able to see themselves reflected in the heroes of this story, which is how it should be." —GayYA.org

"A post-apocalyptic setting awash with danger brings an exhilarating twist to Block's signature mashup of rock-and-roll urchins and high literature." —Publishers Weekly, starred review

"Block writes about the real Los Angeles better than anyone since Raymond Chandler." —The New York Times Book Review

"This Halloween, bypass the usual vampires and werewolves of teen fiction for what lurks between the covers of Francesca Lia Block's brutal, beautifully written Love in the Time of Global Warming. Those fanged and furry creatures are but a sugar rush compared with Block's genetically engineered giants as she treats us to a dystopian tale tricked out in her signature lush prose." —The Washington Post

"The dreamlike quality of the writing, typical of the author's works, functions well with the fantastical elements of the story, which is solid and dense in its descriptions. This is an excellent title for students who have read Homer's Odyssey as well as readers who enjoy a mix of fantasy and reality." —School Library Journal

"The result is original and, no surprise, gracefully written. Magic is no stranger to Block's world, nor is her signature poetic sensibility. And love, in its many varieties and forms, is celebrated, as always." —Booklist
About the Author
---
FRANCESCA LIA BLOCK is the author of many books including the popular Weezie Bat series and The Elementals. She is the recipient of the ALA Lifetime Achievement Award, among others, and is published all over the world.
Praise For…
---
"This Halloween, bypass the usual vampires and werewolves of teen fiction for what lurks between the covers of Francesca Lia Block's brutal, beautifully written 'Love in the Time of Global Warming.' Those fanged and furry creatures are but a sugar rush compared with Block's genetically engineered giants as she treats us to a dystopian tale tricked out in her signature lush prose." —The Washington Post

"The dreamlike quality of the writing, typical of the author's works, functions well with the fantastical elements of the story, which is solid and dense in its descriptions. This is an excellent title for students who have read Homer's Odyssey as well as readers who enjoy a mix of fantasy and reality." —School Library Journal

"The result is original and, no surprise, gracefully written. Magic is no stranger to Block's world, nor is her signature poetic sensibility. And love, in its many varieties and forms, is celebrated, as always." —Booklist

"Literary-minded readers will enjoy teasing out the allusions to Homer--and possibly even The Wizard of Oz--but knowledge of the classics is not a requirement to be swept up in the tatterdemalion beauty of the story's lavish, looping language." —Publishers Weekly, starred review

"Block's trademark magical realism works best in a brief, dreamy journey such as this one, even if the destination is uncertain . . . Mishmash or no, there's something encouraging about seeing four queer kids on an epic journey across the post-apocalyptic American Southwest." —Kirkus Reviews

"Block writes about the real Los Angeles better than anyone since Raymond Chandler." —The New York Times Book Review

"Hers is a voice so unique that nobody will ever be able to imitate it." —Cindy Dobrez, Chairwoman of the committee that awarded Block the Margaret A. Edwards Lifetime Achievement Award in 2005

"[A] compelling apocalyptic survival story with four LGBTQ teens." —Common Sense Media

"Francesca Lia Block is the imaginative bestselling author of Weetzie Bat; she brings a radiant, illuminating world of death, destruction and adventure in her novel Love in the Time of Global Warming. . . . Block will make you see, smell, hear, taste and feel Pen's story, and she will surely wisp you away into an inspiring, fantastical, Dali-esque dream world that you with never forget." —Teenreads

"Francesca Lia Block has made a trademark of twining myth and reality so snugly it's difficult to figure out where one ends and the other begins. . . . This is a fine adventure story. . . . You'll be thinking about it for days afterward." —Bookpage

"Told in Block's distinctive whimsical style, Love in the Time of Global Warming stands out as a uniquely poignant allegory of self-acceptance. . . . The camaraderie between these four queer teens searching for a home together amid the rubble is palpable." —TOR.com

"This a beautiful book. . . . [Perfect] for teens that have grown out of fairytale books but would still like to escape the real world, and also for queer teens, because they may be able to see themselves reflected in the heroes of this story, which is how it should be." —GayYA.org