Death, Taxes, and Silver Spurs (A Tara Holloway Novel #7) (Mass Market)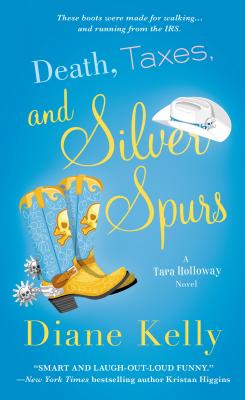 $7.99
Backordered or Out of Print
Other Books in Series
This is book number 7 in the A Tara Holloway Novel series.
Description
---
HE'S ONE OF AMERICA'S BRIGHTEST STARS.

So maybe it goes without saying that IRS Special Agent Tara Holloway is star-struck? In Diane Kelly's Death, Taxes, and Silver Spurs, she's head over heels...in trouble.
Easy's getting harder every day for Tara. A tax-evading pet groomer managed to buzz off a big chunk of her hair...just in time for her date strictly-business meeting with country-music heartthrob Brazos Rivers. Of course Tara shouldn't care-she's devoted to Special Agent Nick Pratt, after all-but Rivers does know how to steal a woman's heart with a song...

"Better than a refund check from the IRS!" -Reader to Reader Reviews

Meanwhile, Tara's up to her fracking neck with another case: A natural-gas company with a money trail that is almost as suspicious as Brazos Rivers's tax return. Which is to say, he can't seem to cough up one. Tara figures the misdeeds of her celebrity crush must be an oversight. But will she dance to a different tune...when her tax-evading idol starts evading her, too?

"TARA HOLLOWAY IS THE IRS'S ANSWER TO STEPHANIE PLUM-SMART, SASSY, AND SO MUCH FUN." -New York Times bestselling author Gemma Halliday
About the Author
---
Diane Kelly is a former state assistant attorney general and tax advisor who spent much of her career fighting, or inadvertently working for, white-collar criminals. She is also a proud graduate of the Mansfield, Texas Citizens Police Academy. Diane combines her fascination with crime and her love of animals in her stories. Diane now lives in North Carolina, where she spends her days catering to her demanding cats or walking her dogs in the region's beautiful woods.
Praise For…
---
"As usual, the pace is quick without being frenetic, and the breezy narrative style is perfection--fun and sexy without being over the top." —RT Book Reviews on DEATH, TAXES, AND EXTRA-HOLD HAIRSPRAY

"This is a rollicking adventure that will have you rooting for the IRS for once--and you won't want to put it down until you find out how Tara will overcome all the obstacles in her way. Keep turning those pages--you'll love every second as you try to find out!" —Reader To Reader Reviews on DEATH, TAXES, AND EXTRA-HOLD HAIRSPRAY

"If you've never read one of Diane Kelly's Tara Holloway novels, I strongly recommend that you rectify the situation immediately. The series has gotten better with every single installment, and I'd be shocked if you didn't see these characters gracing your television screen before too long (USA and HBO, I'm looking in your direction). Get on board now so you can say you knew Tara Holloway when." —The Season for Romance on DEATH, TAXES, AND EXTRA-HOLD HAIRSPRAY

"Diane Kelly knows how to rock the romance, and roll the story right into a delightful mix of high drama with great characters." —The Reading Reviewer on DEATH, TAXES, AND EXTRA-HOLD HAIRSPRAY

"Readers will find Kelly's protagonist a kindred spirit to Stephanie Plum: feisty and tenacious, with a self-deprecating sense of humor. Tara is flung into some unnerving situations, including encounters with hired thugs, would-be muggers, and head lice. The laughs lighten up the scary bits, and the nonstop action and snappy dialogue keep the standard plot moving along at a good pace." —RT Book Reviews on DEATH, TAXES, AND A SKINNY NO-WHIP LATTE

"Readers should be prepared for a laugh fest. The writer is first class and there is a lot of humor contained in this series. It is a definite keeper." —Night Owl Romance on DEATH, TAXES, AND A SKINNY NO-WHIP LATTE

"A quirky, fun tale that pulls you in with its witty heroine and outlandish situations… You'll laugh at Tara's predicaments, and cheer her on as she nearly single-handedly tackles the case." —Romance Reviews Today on DEATH, TAXES, AND A SKINNY NO-WHIP LATTE

"It is hard not to notice a sexy CPA with a proclivity for weapons. Kelly's sophomore series title…has huge romance crossover appeal." —Library Journal on DEATH, TAXES, AND A SKINNY NO-WHIP LATTE

"An exciting, fun new mystery series with quirky characters and a twist…Who would have ever guessed IRS investigators could be so cool! " —Guilty Pleasures Book Reviews on DEATH, TAXES, AND A SKINNY NO-WHIP LATTE

"Kelly's novel is off to a fast start and never slows down. There is suspense but also laugh out loud moments. If you enjoy Stephanie Plum in the Evanovich novels you will love Tara Holloway! " —Reader to Reader Reviews on DEATH, TAXES, AND A SKINNY NO-WHIP LATTE

"Diane Kelly gives the reader an action packed thriller bursting at the seams with humor." —Single Titles on DEATH, TAXES, AND A SKINNY NO-WHIP LATTE

"Keep your eye on Diane Kelly--her writing is tight, smart and laugh-out-loud funny." —Kristan Higgins, New York Times and USA Today bestselling author, on DEATH, TAXES, AND A FRENCH MANICURE

"A hilarious, sexy, heart-pounding ride, that will keep you on the edge of your seat. Tara Holloway is the IRS's answer to Stephanie Plum--smart, sassy, and so much fun. Kelly's debut has definitely earned her a spot on my keeper shelf!" —New York Times bestselling author Gemma Halliday on DEATH, TAXES, AND A FRENCH MANICURE

"The subject of taxation usually makes people cry, but prepare to laugh your assets off with Diane Kelly's hilarious debut." —Jana DeLeon, author of the Ghost-in-Law series, on DEATH, TAXES, AND A FRENCH MANICURE

"Quirky, sexy, and downright fabulous. Zany characters you can't help but love, and a plot that will knock your socks off. This is the most fun I've had reading in forever!" —New York Times bestselling author Christie Craig on DEATH, TAXES, AND A FRENCH MANICURE

"With a quirky cast of characters, snappy dialogue, and a Bernie Madoff style pyramid scheme–hunting down tax cheats has never added up to so much fun!" —Robin Kaye, award-winning author of The Domestic Gods series, on DEATH, TAXES, AND A FRENCH MANICURE

"Kudos to debut author Diane Kelly, who brings a fresh, new voice and raucous humor to the market. I can't wait to read the next book in the Tara Holloway series!" —Angela Cavener, Indie Book Award Finalist and author of Operation: Afterlife, on DEATH, TAXES, AND A FRENCH MANICURE

"Tara Holloway is Gin Bombay's BFF, or would be if they knew each other. Kelly's novel is smart, sexy and funny enough to make little girls want to be IRS agents when they grow up!" —Leslie Langtry, author of the Bombay assassins mystery series, on DEATH, TAXES, AND A FRENCH MANICURE

"This totally terrific debut is better than a refund check from the IRS!" —Reader to Reader Reviews on DEATH, TAXES, AND A FRENCH MANICURE

"Part romance, part thriller, and part comedic mystery, it's just the thing to help keep you warm on a chilly autumn night." —The Maine Suspect on DEATH, TAXES, AND A FRENCH MANICURE

"Who knew the IRS was so sexy?" —The Alcalde on DEATH, TAXES, AND A FRENCH MANICURE

"With her quirky humour and incredibly witty aside jokes, Diane Kelly has created a real winner and a star for her debut…series. Kelly's plot is filled with belligerent and bad ass characters and dicey situations that will keep you turning the pages to see how it all turns out." —Fresh Fiction on DEATH, TAXES, AND A FRENCH MANICURE