You Are Mine: A Nine Circles Novel (Paperback)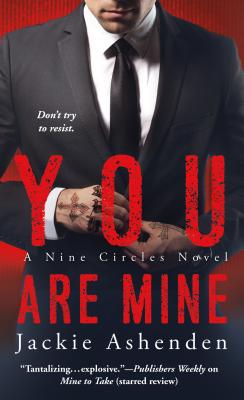 Description
---
In the Nine Circles Club, there's a fine line between pleasure and pain, sin and salvation, heaven and hell. And it takes one bold pair of lovers to cross it in You Are Mine by Jackie Ashenden.
He's master of the game.
Zac Rutherford is one of the most powerful and sought-after men in New York's private club scene. Masterful and demanding, he attracts beautiful women willing to surrender to his every whim, every desire, and every command. But Zac is in love with one woman, and one woman only. She is his true passion-and sole obsession. A glorious angel in the flesh...who refuses to be touched by any man.
She doesn't play by the rules.
Eva King owes her life to Zac. Seven years ago, he rescued her from darkness. Still, in spite of her attraction to Zac, she refuses to allow any man to touch her body, let alone her heart. But when a dangerous enemy from Eva's past reappears, Zac is the only one who can save her-if she's willing to bare her soul, shed her inhibitions, and surrender control...to him.
The Nine Circles series is:
"Sexy, emotional." -Laurelin Paige, New York Times bestselling author
"Sinfully sexy" -Opal Carew, New York Times bestselling author
About the Author
---
Jackie Ashenden lives in Auckland, New Zealand with her husband, the inimitable Dr. Jax, and their two kids and two cats. When she's not torturing alpha males and their stroppy heroines, she can be found drinking chocolate martinis, reading anything she can lay her hands on, posting random crap on her blog, or being forced to go mountain biking with her husband.
Jackie writes dark, sexy contemporary romance for St Martin's Press, the titles Mine To Take, Make You Mine, and You Are Mine.
Praise For…
---
"With a distinct voice and fresh, complex characters, Mine To Take is a sexy, emotional read that gripped me from page one. I can't wait to see what Ashenden brings us next." —Laurelin Paige, New York Times bestselling author
"A scintillating, heart-pounding love story. A dark, sinfully sexy hero with a tortured past. I loved it!" —Opal Carew, New York Times bestselling author
"Outstanding, unabashedly sexy...pulls out all the stops for emotional drama and exquisite passion." —PW Starred Review on Make You Mine
"Ashenden twists and tortures her characters with impressive skill, placing everything they desire just beyond the boundaries of what they have promised." —The Washington Post on Mine To Take
"The sex is dirty-sweet, with a dark lick of dominance and the tantalizing potential of redemption, and an explosive ending provides the perfect closure to Gabe and Honor's story while setting up the next installment." —Publishers Weekly, Starred Review
"Intriguingly dark and intensely compelling...explosive." —RT Book Reviews on Mine To Take, Top Pick!
"Powerfully suspenseful and, above all, sensual and meaningful...not to be missed." —Top Pick! RT Book Reviews on Make You Mine