Operational Updates
Click HERE for the most updated hours, customer guidelines and updates to store policy.
Christmas Brides (Mass Market)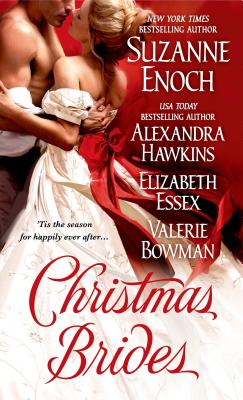 Description
---
Relax on a silent night and dive into Christmas Brides, a lush historical holiday anthology featuring a brand-new story from USA Today bestselling author Alexandra Hawkins. And back by popular demand from last Christmas, previously published One Hot Scot, The Scandal Before Christmas, and It Happened Under the Mistletoe are back to deck the halls in this sensual Christmas collection.
One Hot Scot by Suzanne Enoch
Duncan Lenox lives surrounded by enemies, a MacLawry in a land of Campbells. But when an English beauty has nowhere else to turn, he feels obligated to help. Now that they must spend a night together in an abandoned cottage while a storm rages on, will their mutual passion save—or doom—them both?
Once Upon a Christmas Scandal by Alexandra Hawkins
Lady Ellen is outraged when she learns her dowry's been increased by her dad, eager to draw every bachelor in England to her front door. So when Lord Swainsbury comes knocking, Ellen assumes he's another dreadful fortune hunter. Little does she know that Swainsbury has completely fallen for her—body, heart, and soul…
The Scandal Before Christmas by Elizabeth Essex
Lieutenant Ian Worth needs a wife by Christmas. He has to find her, woo her, and wed her before he goes back to sea. Anne Lesley is a shy spinster with no prospects, so she accepts Ian's hasty offer only for the security it will bring. But when a midwinter storm rolls in, things start to heat up between them…and they might just find true, honest-to-goodness love…
It Happened Under the Mistletoe by Valerie Bowman
Oliver Townsende intends to avoid the hordes of marriage-minded misses at a friend's holiday party. When he meets Miss Cerian Blake, who's dodging her own unwanted set of admirers, the two decide to join forces and fake an infatuation to keep their suitors at bay. But when mistletoe becomes involved, will their Christmastime prank turn into a love to last all seasons?
About the Author
---
Suzanne Enoch grew up in Southern California, where she still balances her love for the Regency romances of Georgette Heyer and classic romantic comedies with her obsession for anything
Star Wars
. Given her love of food and comfy chairs, she may in fact be a Hobbit. She has written more than 35 romance novels, including traditional Regencies, Historical Romance, and contemporary Romantic Suspense. When she isn't working on her next book she is trying to learn to cook, and wishes she had an English accent. She is the bestselling author of
The Scandalous Brides
series,
The Scandalous Highlanders
series, and
One Hot Scot.
Alexandra Hawkins
is the author of the Lords of Vice Novels—
All Night with a Rogue
,
Till Dawn with the Devil
, and
After Dark with a Scoundrel
. An unrepentant Anglophile, she discovered romance novels as a teenager, and knew that one day she would be writing her own stories. She has combined her love of English history, mythology, and romance to create sensual character-driven stories that she hopes will touch readers' hearts. She lives in Georgia with her husband and three children.
Elizabeth Essex is the acclaimed author of historical novels including The Pursuit of Pleasure and A Sense of Sin. When not re-reading Jane Austen, sipping tea or mucking about her garden, Elizabeth can be found at her computer, making up wonderful stories about people who live far more interesting lives than she. It wasn't always so. Elizabeth graduated from Hollins College with a BA in Classical Studies and Art History, and then earned her MA from Texas A&M University in Nautical Archaeology, also known as the archaeology of shipwrecks.
Valerie Bowman is an award-winning author who writes Regency-set historical romance novels aka Racy Regency Romps! Since her debut in 2012, Valerie's books have received starred reviews from Publisher's Weekly, Booklist, and Kirkus. She's been an RT Reviewers' Choice nominee for Best First Historical Romance and Best Historical Romance Love and Laughter. Two of her books have been nominated for the Kirkus Prize for fiction and New York Times bestselling author Lisa Kleypas calls them, "Too delightful to miss!"
Valerie has a B.A. in English Language and Literature with a minor in history from Smith College. By day, she is a technical editor at a computer software company. By night, she combines her love of writing, history, and romance to craft stories about people falling in love.
Originally from Rantoul, Illinois, Valerie lives in Jacksonville, Florida with her family including her two rascally dogs. When she's not writing, she keeps busy reading, traveling, or vacillating between watching crazy reality TV or PBS.
Praise For…
---
"One of my very favorite authors." —Julia Quinn on Suzanne Enoch
"Hawkins hooks readers and draws them all the way in to the perfect ending." —Romantic Times
"Elizabeth Essex writes the perfect blend of fast-paced adventure and deliciously sexy romance. …I will read anything Elizabeth Essex writes!" —New York Times bestselling author Celeste Bradley
"With her sparkling dialogue, vivid characters and self-assured writing style, Valerie Bowman has instantly established herself as a romance author with widespread appeal." —New York Times bestselling author Lisa Kleypas