Go to My Grave: A Novel (Hardcover)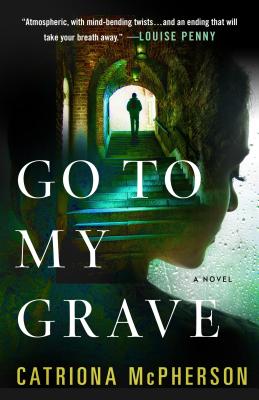 $26.99
Backordered or Out of Print
Description
---
From Catriona McPherson, the Agatha-Award winning author of Quiet Neighbors, comes a clever, spine-tingling standalone Gothic thriller.

"Go to My Grave is both a classic 'country house mystery' and a thriller. Atmospheric, with mind-bending twists, a narrator who may or may not be reliable, and an ending that will take your breath away and leave you astonished." —Louise Penny

Donna Weaver has put everything she has into restoring The Breakers, an old bed and breakfast on a remote stretch of beach in Galloway. Now it sits waiting—freshly painted, richly furnished, filled with flowers—for the first guests to arrive.

But Donna's guests, a contentious group of estranged cousins, soon realize that they've been here before, years ago. Decades have passed, but that night still haunts them: a sixteenth birthday party that started with peach schnapps and ended with a girl walking into the sea.

Each of them had made a vow of silence: "lock it in a box, stitch my lips, and go to my grave."

But now someone has broken the pact. Amid the home-baked scones and lavish rooms, someone is playing games, locking boxes, stitching lips. And before the weekend is over, at least one of them will go to their grave.
About the Author
---
CATRIONA MCPHERSON was born in Scotland in 1965 and lived there until immigrating to the US in 2010. Her Dandy Gilver historical mysteries have won numerous awards, including two Agathas, and her contemporary novels have won two Anthony awards and been Edgar and Mary Higgins Clark finalists. Catriona is a proud member of Mystery Writers of America and a former national president of Sisters in Crime. She lives in Davis, California, where she writes full-time.
Praise For…
---
Praise for Go to My Grave:

"Agatha Award-winning McPherson's deliciously gothic country house mystery with a contemporary twist is devious and suspenseful and keeps readers guessing to the shocking end. Highly recommended." —Library Journal (starred)

"A rousing gothic tale of past and present in a Galloway beach house...McPherson provides a virtuoso exploration of guilt, remorse, and revenge in a haunting psychological thriller. The ending will leave you astounded." —Kirkus Reviews (starred)

"Even a newbie reader of suspense fiction will feel a Stephen King-esque prickle of menace as things start to get out of hand, and even the most jaded of suspense aficionados should be gobsmacked by the twist at the end." —BookPage

"[This] gripping suspense tale is one readers will want to finish in a single long sitting." —Booklist

"Lovers of classic manor house mysteries are in for a treat."—Publishers Weekly

"Absolutely one of her best ever. This is a very slow, deliberate tale with teeth-grinding suspense and twists that make you keep reading on into the night."—Globe and Mail

"Stunning."—Lori Rader-Day, author of The Day I Died

"Atmospheric, with mind-bending twists, a narrator who may or may not be reliable, and an ending that will take your breath away and leave you astonished."—Louise Penny

"A terrific mystery—sharp, devious, and suspenseful. Catriona McPherson has written another winner." —Meg Gardiner, author of UNSUB

"A Gothic feast of a novel, this is a country house book with a difference: contemporary, punchy and disturbing, but using the tricks and twists of the best of Christie."—Ann Cleeves

"Terrific! Chilling, entertaining and profound . . . Catriona McPherson brilliantly twists and turns the classic manor house mystery into a contemporary psychological page turner." —Hank Phillippi Ryan, bestselling author of Trust Me

"Catriona McPherson is one of our best and most fearless storytellers. Her stand-alone suspense novels have proven to be anything but predictable, and this latest may just be her best yet. Firmly planted in the Gothic tradition, readers who long for the tales of Phyllis A. Whitney and Victoria Holt will find much to love here." —BOLO Books

"A Gothic thriller that had me guessing all the way. This book is so cleverly crafted it took my breath away." — Always With a Book


Praise for McPherson's previous award-winning standalone novels:

"Unnerving and suspenseful...McPherson's best yet."—Karin Slaughter for House. Tree. Person.

"A one-sitting read."—Kirkus (starred review) for House. Tree. Person.

"Both cozy and creepy...quirky charm."—The New York Times for Quiet Neighbors

"The definition of a good book."—Charlaine Harris for Quiet Neighbors

"Layer upon layer of deception...a fine read."—Kirkus (starred review) for Quiet Neighbors

"Outstanding."—Publishers Weekly (starred review) for Quiet Neighbors

"Complex and character-driven...atmospheric and suspenseful."—Library Journal (starred review) for Quiet Neighbors

"A warmhearted character study...that shivers with suspense"—The New York Times for The Child Garden