Beatrice and Benedick (Hardcover)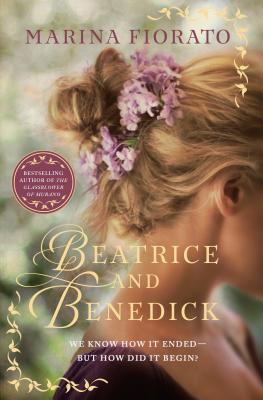 Description
---
Hidden in the language of Shakespeare's best-loved comedy Much Ado About Nothing are several clues to an intriguing tale. It seems that the witty lovers Beatrice and Benedick had a previous love affair that ended bitterly. But how did they meet? Why did they part? And what brought them together again?
When nineteen-year-old Beatrice is brought to live at her uncle's court in Sicily to be a companion to his daughter, she first meets Benedick, a young soldier who is there with a Spanish lord on a month-long sojourn. As they begin to wage their war of wit, their words mask their deep love for one another. But the pair are cruelly parted by misunderstanding and slander. Heartbroken, Benedick sails to England on the ill-fated Spanish Armada. Beatrice returns to her home in the North and an unwanted betrothal. While Benedick must fight for his life on board ship, Beatrice fights for her freedom from an arranged marriage.
From the point of view of Beatrice and Benedick we hear the lovers tell their own story, taking us from the sunlit southern courts of Sicily, to the crippled Armada on the frozen northern seas, to the gorgeous Renaissance cities of the north.
From Marina Fiorato, author of the acclaimed historical novel The Glassblower of Murano, comes a beautifully imagined Beatrice and Benedick.
About the Author
---
Marina Fiorato is half-Venetian and a history graduate of Oxford University and the University of Venice, where she specialized in the study of Shakespeare's plays as an historical source. She has worked as an illustrator, an actress, and a film reviewer, and designed tour visuals for rock bands including U2 and the Rolling Stones. Her historical fiction includes the Venetian Bargain, The Daughter of Siena, The Botticelli Secret, and her debut novel, The Glassblower of Murano, which was an international bestseller. She was married on the Grand Canal in Venice, and now lives in London with her family.
Praise For…
---
"Impressive . . . Fiorato re-creates Shakespeare's Renaissance as if she's embellishing one of his scripts with copious stage directions and footnotes, from the setting to the props. . . It's a lively origin story in which all the world's a stage, but especially Italy, and the suspense is high as the lovers walk a tightrope between truth and trope." —Kirkus Reviews
"[E]ntertainingly crafted. . . and the author's knowledge of the Shakespearian world serves her well here, in language and manners. . . . [A] witty piece of historical romance." —Daily Mail (UK)