Operational Updates
Click HERE for the most updated hours, customer guidelines and updates to store policy.
Growl: Werewolf/Shifter Romance (Paperback)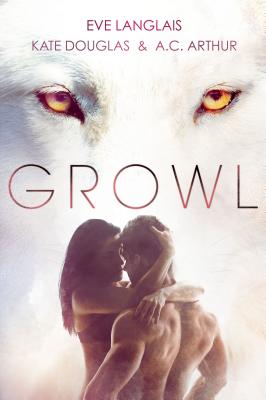 Description
---
Lose yourself in Growl, the sinfully sexy paranormal shape-shifting romance anthology, headlined by New York Times bestselling author Eve Langlais!

A brand new, never before published novella!

In Legal Wolf's Mate, taking on a pro bono murder case isn't a problem for a lawyer who enjoys a challenge. Discovering his new client is his mate? A tad more complicated. Gavin has no intention of settling down, especially not with a woman accused of murder, but once he sets eyes on Megan, his fate is sealed.

Previously published in the 2-in-1 e-original (title) and in print for the first time!

In The Alpha's Woman, Kira Radney is all delicious curves and strong will and has no desire to be a subservient mate. When a member of her father's pack attempts to make her his mate by force, Kira has no choice but to flee. The last thing she wants is to submit to any male and their pack. But when her escape attempt leads her straight into the arms of an alpha wolf-a sexy, dangerous, protective alpha-Kira must fight against her need to be free, and her secret desire to be controlled...

In Feral Passions, what better place for an adventurous woman to explore her wild side than a luxurious resort in northern California's beautiful Trinity Alps? Especially when that resort is run by sexy werewolves looking for mates-Feral Passions Resort, where fantasies come true.
About the Author
---
New York Times and USA Today Bestselling author Eve Langlais is a Canadian mom of three who loves to write hot romance. Her twisted imagination and sarcastic sense of humor tend to heavily influence her stories with giggle worthy results. As one of the authors in the Growl anthology, you can be treated to her version of romance featuring a shapeshifter, because she just loves heroes that growl--and make a woman purr. To find out more about Eve please visit her website or find her on Facebook where she loves to interact with readers.

Kate Douglas is a Professor in English at Flinders University. She is the author of Contesting Childhood: Autobiography, Trauma and Memory (2010) and the co-author of Life Narratives and Youth Culture: Representation, Agency and Participation (2016; with Anna Poletti). Her edited collections include (with Ashley Barnwell) Research Methodologies for Auto/Biography Studies (2019). Kate is the Head of the Steering committee for the International Auto/Biography Association's Asia-Pacific chapter.

A.C. Arthur was born and raised in Baltimore, Maryland where she currently lives with her husband and three children. An active imagination and a love for reading encouraged her to begin writing in high school and she hasn't stopped since. Her debut novel Object of His Desire was written when a picture of an Italian villa sparked the idea of an African-American/Italian hero. Determined to bring a new edge to romance, she continues to develop intriguing plots, sensual love scenes, racy characters, and fresh dialogue—thus keeping the readers on their toes!
Praise For…
---
"Three sensational paranormal romances invite readers to explore new worlds where three women find delicious passion and the possibilities of happily ever afters if they open themselves up for it." - Night Owl Reviews, Top Pick, 5 stars

"This collection satisfies." - PW

"Three great reads about alpha mates and their women." - Fresh Fiction

"Will make you bay, bark and howl at the moon!" - Reader to Reader on Growl